What's Driving the Growth of Gigantic Distribution Centers
Washington state not only boasts the world's largest steel building, it is also home to the king of the mega warehouses— the Target Import Distribution Center.
The 2,000,000 square foot Target Import Distribution Center opened in April 2003 in Lacey, Washington. With a total volume of 262.4 million cubic feet, the Target structure is the second largest building in the world. Only the monstrous Boeing Aircraft Plant in Everett, Washington, tops it. The Boeing Plant remains the largest building on earth at a whopping 472 million cubic feet.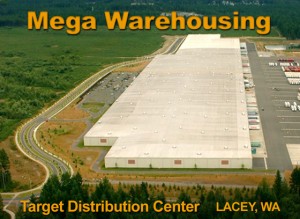 The Target structure in Lacey is just one example of the rising need for gigantic, steel frame warehouses across the U.S.
What's behind the trend to giant warehouses
Significant changes in recent years are changing the way we move and sell goods:
America shifted from a primarily manufacturing economy to importing most manufactured goods from other countries. Hence, large warehouses near busy ports became an economic necessity.
Increasingly, Americans purchase e-commerce products rather than buying merchandise at local retail stores. The convenience of online shopping and home delivery appeals to busy consumers. Online giants like Amazon.com and Overstock.com require massive distribution centers scattered across the country for rapid order fulfillment. Consumer online purchasing now generates over $1.2 trillion annually across the globe.
Wal-Mart, Target, Home Depot, Lowe's Home Improvement, Costco, Sam's, Toys "R" Us, Best Buy, and Office Depot, and other big-box stores must keep countless products readily available— without becoming overstocked.
To be competitive, all the largest retailers now maintain both store locations and e-commerce sites. Most offer the option of store delivery or home delivery.
Climbing fuel prices drove companies to look for ways to centralize product distribution.
An overview of warehousing in the U.S.
Warehousing in the U.S. is BIG business. Look at these warehouse industry facts:
In 1998, less than 5% of warehouse starts were over 500,000 square feet. Only eight years later, 25% of all warehousing starts were over half-a-million square feet.
From 1998-2006, overall employment in the U.S. grew 1.3%. Employment in the warehousing sector jumped 22.2% over the same time span.
Currently there are approximately 52,600 warehouses and distribution centers operating in the U.S. Over 4,200 of those are mega warehouses with 250,000 square feet or more. The remaining 48,400 warehouses average just over 50,000 square feet.
Today's warehouses not only sprawl over acres of square feet, they are also getting taller. The average height of warehouses built today is 22'. The added height provides room for mezzanine floors, maximizing usable space within the structure.
Warehouses represent only 8.7% of all industrial buildings in America.
Warehouses account for about 34% of industrial building total square footage— nearly 7.5 billion square feet. That is enough space to contain 381,944 NFL football fields— equivalent to 269 square miles.
Building green, giant warehouses of steel
Mega warehouses would be impossible without steel construction. Steel is the only building material that allows the massive open spaces and towering building heights required by today's warehouses.
Here's why steel is the only choice for larges industrial buildings and mega warehouses:
Engineers know steel supplies the strongest weight-to-weight ratio of any building material.
Designers love the practicality and versatility of pre-engineered construction for steel frame warehouses.
Environmentally conscious companies appreciate the green qualities of steel frame warehouses, like their high material recycling content.
Bottom-line enthusiasts welcome the low maintenance, longevity, insurance savings, and energy-efficiency of well-insulated steel construction.
Forward thinking managers rely on the easy expandability of steel frame warehouses to allow their facilities to grow with their business.
Call RHINO Steel Building Systems at 940.383.9566 for a free quote on your industrial building or warehouse project.
Whether you require 5,000 square feet or 500,000 square feet or more, you will enjoy the advantages of affordable RHINO steel frame warehouses. Our wide assortment of options includes several insulation packages, skylights, mezzanines, and a wide range of overhead doors.