Why Damage-Resistant Metal Buildings are the Smart Choice
The weather-related disasters of 2017 underline the need for stronger, safer structures like steel buildings.
The cost for 2017 natural disasters in the U.S. topped $306 billion, according to the National Oceanic and Atmospheric Administration (NOAA). This shocking bill is four times the average annual cost over the last decade.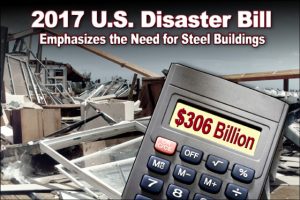 Sixteen separate incidents contributed to the soaring 2017 price tag. Drought, freeze, floods, major hurricanes, tornadoes, and other severe storms plagued the country from January to December.
$306 Billion PLUS…
While astounding, the $306 billion dollar bill for 2017 disasters is just the tip of the iceberg in real costs. This staggering figure does not include related health-care costs, loss of capital, or physical and mental stress.
And how can you put a price tag on the 362 lives lost in the U.S. in these tragedies?
Insurance data shows 710 natural disasters occurred worldwide in 2017. Yet the U.S. accounts for roughly half of all the insurance payouts for this catastrophic year.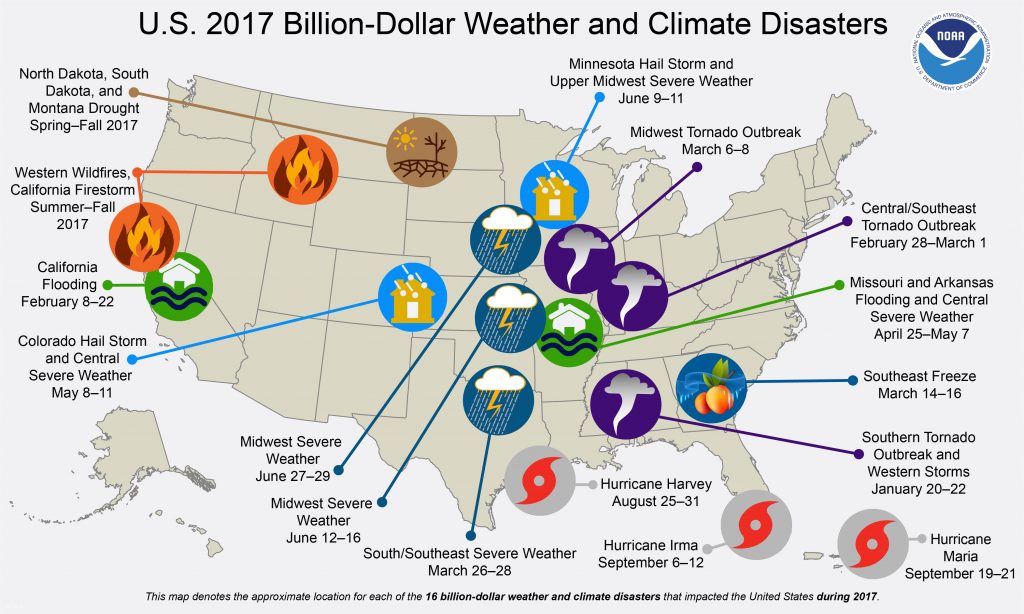 As we approach the midway point of the first month of 2018, the weather-related catastrophes continue. Already crippling winter storms on the East Coast and devastating mudslides on the West Coast have claimed lives and destroyed property.
And climate change experts expect such extreme weather events to occur even more frequently in the future.
So what is the answer?
Steel Buildings for the Future
We can do to three things to help mitigate the high cost of natural disasters:
BUILD STRONGER: To stand up to Mother Nature's savage fury, we need to build stronger. Commercial-grade steel boasts the strongest strength-to-weight ratio of any common building material.
Make no mistake, building codes will invariably become more and more stringent in the wake of these costly natural disasters.
Depend on pre-engineered steel buildings to "make the grade," even as building codes adapt and expand. RHINO's steel building kits are engineered to meet or exceed all current local building codes for the lifetime of the structure— GUARANTEED.
BUILD SMARTER: Insurance pressure and common sense will demand that new structures be built in safer locations. Building officials will look askance at those looking to construct in known risky locations, especially on coastlines, in flood zones, and atop perilous hillsides.
BUILD WITH STEEL: Not only does steel provide the strongest possible structural frame, it also helps to eliminate the real villain behind these increased climate-related disasters: greenhouse gas emissions.
Steel buildings fight fossil-fuel emissions three ways.
First, steel reduces greenhouse emissions through recycling. Steel is not only the most recycled material on earth, it is also the only one that retains all of its strength, regardless of how many times it is recycled.
Secondly, a well-insulated steel building uses half as much energy to heat and cool as other types of buildings. Since commercial buildings consume 50% of all energy in the U.S., cutting their energy usage dramatically affects greenhouse emissions.
Thirdly, the more steel used to build, the less lumber needed. Live trees release life-giving oxygen into the air, scrubbing greenhouse gases from the polluted atmosphere. Dead trees, converted to lumber, release the carbon dioxide stored inside, further polluting the atmosphere.
Rebuilding with RHINO
Consider rebuilding from the 2017 disasters with the strongest building system available. Discover more about all the ways RHINO's affordable steel buildings resist damage from winds, fire, snows, floods, earthquakes, and even termites.
If you want to construct disaster resistant buildings using steel, speak to a RHINO metal building specialist now at 940.383.9566.