Why Wolverines Love the Many Benefits of Metal Buildings
Why choose pre-engineered steel buildings in Michigan? Prefabricated metal buildings offer the durability, strength, and versatility required for the diverse Michigan market at an affordable price.
Lake-Effect Climate Challenges
The two halves of Michigan bracket Lake Michigan. The state actually borders on four of the five great lakes. In addition, Michigan boasts about 11,000 inland lakes. That is a lot of water.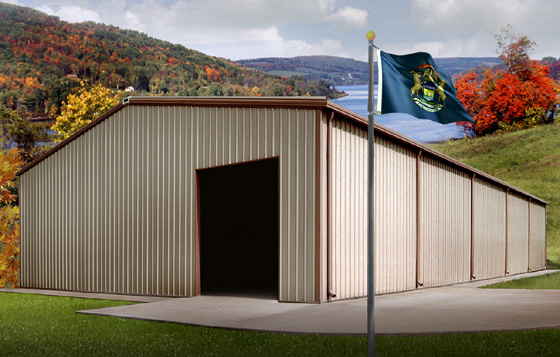 When polar air masses move southward across Canada, they collide with the moisture-laden air over the Great Lakes. The result is lake-effect precipitation. Two lake-effect snow belts normally exist in Michigan— one along the southern shores of Lake Superior in the Upper Peninsula, and another along the eastern shoreline of Lake Michigan in the Lower Peninsula.
While generally Michigan's climate is considered mild, this past winter blew away all previous records. The 2013-2014 winter toppled a 133-year-old snowfall record with a whopping 94.8 total snowfall in Detroit. Even more surprising, ice covered 92% of the Great Lakes. Lake Michigan froze up to two foot deep over 93% of its surface.
With that kind of snow, you had better be sure your structures can take the weight.
RHINO's prefabricated steel buildings in Michigan meet the challenge head on. Our Michigan metal buildings meet— or exceed— all local buildings codes for the lifetime of the structure.
When Storms Roar Across the Peninsulas
Not only do RHINO Michigan metal buildings stand up to crushing snows, they also stand up to fierce winds, deadly lightning, hail, and occasional tornadoes that sometimes plague the state.
Michigan ranks second in the nation for lightning-induced deaths and injuries. Since 1959, over 700 people have been killed or badly injured by lightning across both halves of the state.
Wood and concrete structures resist the current of a lightning strike, resulting in explosions or fire. Well-grounded metal buildings pass the current through the framing and safely into the ground.
Metal buildings are non-combustible and therefore unlikely places for fires to start. The fire-resistant qualities of steel buildings earn big insurance discounts with many companies.
RHINO steel buildings in Michigan resist damage from high winds and hail much better than wood-framed structures. Devastating derecho winds, screeching straight-line winds, and smaller tornadoes do little or no damage to RHINO's commercial-grade steel framing.
More Advantages of RHINO Steel Buildings in Michigan
MOLD: In the humid climate fueled by the Great Lakes, mold is always a possibility. Mold needs not only water, but also an organic food source like wood to flourish and spread. Steel is inorganic and you can prevent mold and fungus by choosing a steel building.
TERMITES: Fortunately, Formosan termites have not made their way into Michigan yet. Unfortunately, subterranean termites do inflict damage on homes and other structures across the state. No worries. No termites can devour RHINO's Michigan metal buildings.
CLEAR SPAN: The strength of steel allows wide, open spans not possible with other building systems. No load-bearing walls are needed in RHINO's Michigan metal buildings. Clear span steel buildings allow for flexibility in floor plan layout— and allow for easier changes later on.
FAST: RHINO steel buildings arrive at your Michigan building site, ready to erect. Everything to complete the structural share is included. Every piece is cut, welded, punched, painted, and clearly marked. Many people elect to erect small to medium Michigan metal buildings themselves with a few friends. However, if you are not the do-it-yourselfer type, RHINO will recommend local steel erectors to do the job for you.
LOW MAINTENANCE: Steel buildings in Michigan require little upkeep. They retain their value for decades longer than wood framed. That makes a steel building a better long-term investment.
From Cars to Metal Buildings
Henry Ford started a revolution across the country by streamlining the production of cars. Ford birthed a new industry in Michigan. America was never the same. He made cars affordable for everyone.
Pre-engineered steel buildings changed construction in the same way. Rather than build each structure one by one on site, factories produce steel framing components, streamlining the building process. Economical pre-engineered steel building fit the tightest budget.
Learn More. Call RHINO Today.
Whether your project is for home or for business, trust RHINO for the best deal for steel buildings in Michigan.
RHINO's versatile Michigan metal buildings make excellent commercial and industrial structures like offices, restaurants, agricultural structures, aircraft hangars, retail centers, self-storage facilities, warehouses, manufacturing facilities, or automobile dealerships.
Horse enthusiasts choose RHINO steel buildings for barns, stables, and indoor riding arenas. RHINO metal buildings also work well for vacation homes, lake cabins, hunting cabins, or covered pavilions.
Individuals choose RHINO for hobby houses, multi-vehicle garages, man caves, and storage buildings. RV garages and boat storage steel buildings keep your recreational vehicles safe from the Michigan elements.
Learn more reasons your next building project in Michigan should be a RHINO steel building. Call now for details and a free estimate on Michigan metal buildings. Our number is 940.383.9566.