Steel Buildings Create Unobstructed Space for Audiences
All buildings for theaters and museums have one common requisite: spaciousness.  Pre-engineered steel buildings provide the column-free openness performances demand.
Clear Span Steel Buildings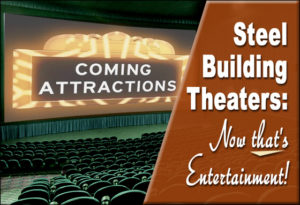 Successful audience-based venues must make the most of available space.  Seating is paramount.  After all, the more seating that is available, the greater the profits per showing or event.
However, it is equally important to keep the customers comfortable with an unhindered view of the presentation.  Wide spaces and high ceilings set the tone for audiences to enjoy the show.  No one wants to be stuck behind a roof-supporting column.
Only the strength of steel furnishes the voluminous space needed for buildings for theaters and other projects like these:
Church sanctuaries
Community theaters
Cultural centers
Exhibition centers
Movie cinemas
Museum displays or presentations
Park or community outdoor theaters or band shells
Performing arts theaters
School or community auditoriums
Cavernous Space Calls for Steel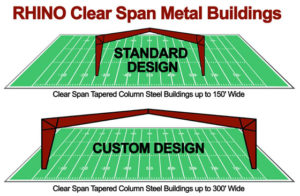 The unmatched strength of steel allows extremely long building roof spans ideal for movie theater and museum construction. Clear span steel structures eliminate the need for clumsy and intrusive load-bearing columns in buildings for theaters.
So how far can a pre-engineered metal building span without support columns?
On a standard design, RHINO steel buildings span up to 150 feet in width.  With additional custom engineering, our structures may reach 300 feet in width— the entire length of a football field!
Other Benefits of Using Steel Buildings for Theaters
Fortunately, open space is only one of the advantages of building with steel.  RHINO steel buildings also promise:
Built-in resistance to fire, lightning, wind, and earthquake damage
Consistent quality with dimensionally stable building components
Decades of hassle-free service
Easy upkeep
Extremely low energy costs (with optional Pro-Value Insulation System)
Fast erection with simple-bolt-together framing for lower construction costs
Reduced waste
Sizable discounts on insurance
Termite and mold resistance
Unlimited possibilities of exterior styling
Ask for a Free Quote Today
Call RHINO Steel Building Systems now at 940.383.9566 about your upcoming theater, museum, or performing arts construction project.