Building Revenues with a Venue
An event venue sets the mood for a business conference, corporate meeting, private party, reunion, wedding, or other gathering. The success of the event rests with the one planning— and those hosting— the event.
Most events require a professional events planner, caterer, audio/visual equipment, and possibly live entertainment. The successful event venue manager must supply these amenities— or be ready to recommend local vendors specializing in such services. Establish business relationships with local bakeries, bridal gown shops, costumes shops, decorators, florists, liquor stores, party equipment rentals, and tuxedo rental shops.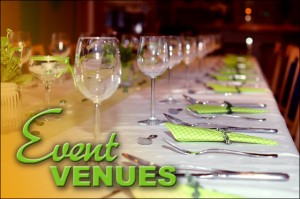 Event planning software keeps scheduling, deposit receipts, and client details well organized and instantly available.
Typically, an event venue requires a non-refundable deposit to secure the date. On larger events, schedule payments at specific intervals. Schedule the final payment several weeks before the event. Outline every detail— including clean-up requirements— in the contract to avoid misunderstandings.
Finding the Perfect Party Fit
Corporations, families, organizations, and schools plan meetings and parties year round. These gatherings include:
• Association fund-raising events
• Awards ceremonies
• Banquets
• Bar mitzvahs
• Birthday parties
• Charity dinners
• Church benefits
• Class reunions
• Conferences
• Corporate retreats
• Engagement parties
• Family reunions
• Graduations
• Professional seminars
• Receptions
• Retirement parties
• Team building events
• Weddings
Ideally, an event venue can host all types of gatherings. However, most successful space providers market to a specific niche. Experience will show event facilities where the "sweet spot" is in their market. Once the niche is located, focus advertising and marketing toward that audience to reduce time wasted on discussing events not suited to your facility.
Word-of-mouth advertising is invaluable to the success of event venues. Everyone expects their affair to be flawless. When pleased with the outcome, they will recommend the facility to others. If displeased, they will warn others away.
Impress professional party and wedding planners with the operation, the facility, and the smooth execution of the event, and they will keep you busy with bookings.
Maximizing Usable Space
In an event venue, space is everything. Successful special event halls provide ample parking. The facilities need to be big enough to accommodate large groups comfortably.
The structures used should be large, unobstructed, clean, and easily adaptable to a wide range of events. Well-insulated pre-engineered steel buildings prove the most flexible structures for banquet and event facilities. Clear span steel buildings require no interior load-bearing walls or columns, allowing maximum usable space.
Steel buildings have zero limitations on aesthetics. Design the structure with an exterior of metal, stone, brick, stucco, wood— or any combination of these. If the property offers a pleasing vista or landscaped gardens, consider including large expanses of glass overlooking the view.
The professional commercial kitchens included in many banquet facilities work well in steel buildings. Many restaurants choose to build with steel.
When hosting outdoor events, a back-up plan for rain is essential. Open-air steel structures allow the party to go on in warm weather. Colder weather may require an indoor alternative.
Call RHINO's professional venue builders for a free quote on banquet halls, open-air pavilions, event venue structures, and other recreational buildings.
• RHINO metal buildings are built strong to last long.
• They are fast to erect, economical to build, and affordable to operate.
• RHINO's Pro-Value insulation packages slash heating and cooling bills as much as 50%.
• The fire-resistant qualities of steel structures earn substantial discounts on insurance.
• As the most recycled material available, steel buildings rate high on green building lists.
Call the venue builders at RHINO now at 940-383-9566 for details, a quick quote, and professional service.