Comparing Wooden Pole Barns to Prefab Steel Barns
Perplexed about the difference between a pole barn building and pre-engineered metal barn building?
Let's start with the basics by defining the two types of barns.
So what exactly is a Pole Barn Building?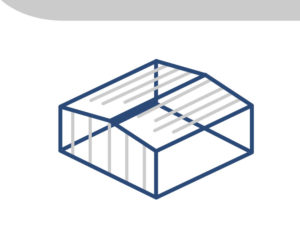 Typically, pole buildings use chemically treated wood posts for the main framing supports.
These posts are buried in the ground 3' to 6' deep. The posts are normally spaced 8' apart.
Wooden roof trusses top the posts.
Lateral boards connect the posts horizontally on the outside of the posts.
Lightweight sheets of corrugated metal cladding fasten over the lateral wood framing and to the roof trusses.
Sometimes a concrete floor is added. However, pole barns most often have plain dirt floors.
So What is Meant by a Steel Barn?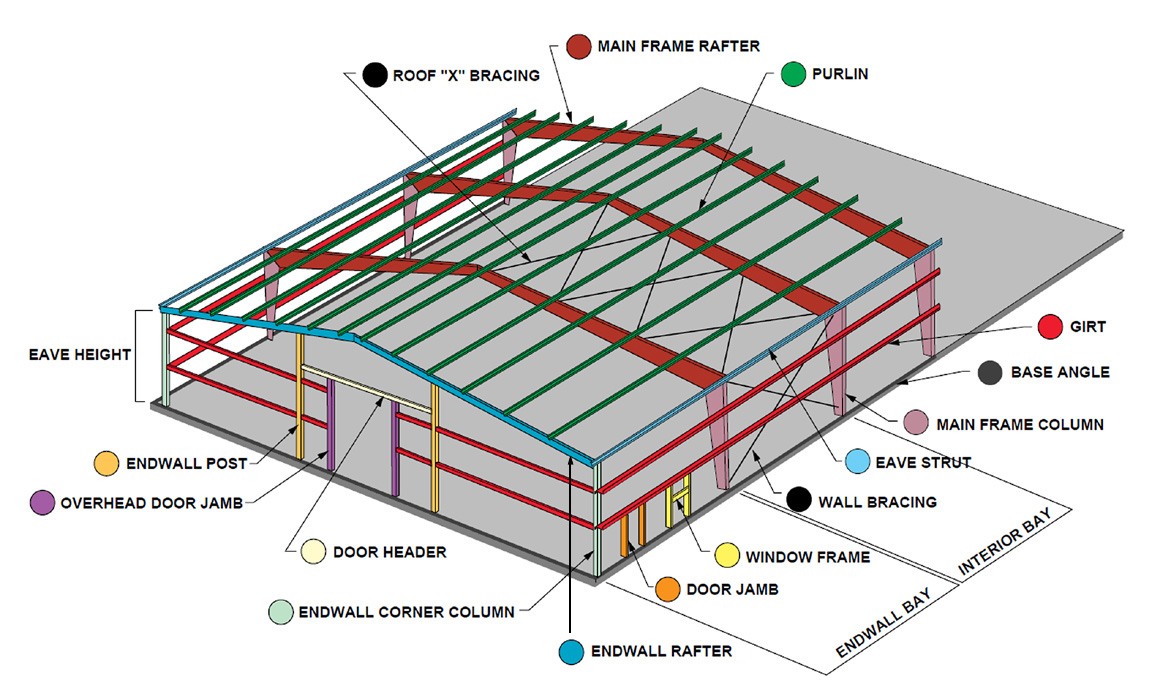 A pre-engineered metal barn building uses rigid-frame red-iron steel columns.
Typically, two steel rafter beams attach to two steel columns to form one frame.
Depending on the building codes required, the frames are spaced 20' to 25' apart.
Lateral steel pieces called girts fasten horizontally across the outside of the frames, forming part of the secondary framing.
Steel components called purlins connect across the rafter beams. The purlins span the distance from frame to frame to complete the secondary framing.
Heavy-duty ribbed steel panels fasten to the roof purlins and wall girts to enclose the building envelope.
Although metal barns and other pre-engineered metal buildings generally erect on concrete slabs, there are other options.
Advantages of building a RHINO Metal Barn over a Pole Barn Building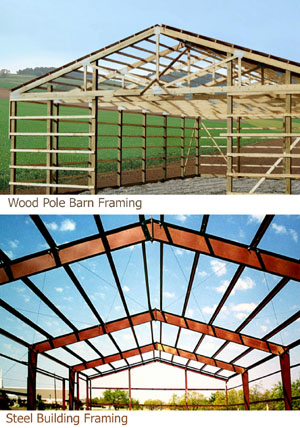 People who build wooden pole barns tend to focus only on the here and now.
They often require extensive (and expensive) upkeep, and have a very limited lifecycle.
In fact, in some locations, building departments consider a wooden pole barn as a temporary structure.
However, building a metal barn adds beauty and lasting value to your property.
A RHINO metal barn building is low-maintenance, durable, and more cost-effective when compared to pole barns.
Dirt Floor or Concrete Foundation?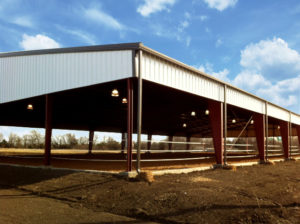 Why would a customer want a dirt floor?
For example, a riding arena requires soft dirt for horseback riding. Some agricultural applications, such as equipment storage shelters or hay sheds, also do not require concrete floors.
If a dirt floor is preferred, concrete piers can be poured for a prefab steel barn. Each steel column bolts to a corresponding pier.
Another option would be to pour a concrete perimeter wall to support the exterior steel walls, leaving the center of the building covered in dirt. (The RHINO metal barn package includes perimeter steel beams for structures not erected on slab foundations.)
Conclusion
Compare the two types of barns. You will find RHINO's high quality prefabricated metal barns and steel buildings will out-perform and out-last wood pole barns every time.
Building a Metal Barn with RHINO
Please call RHINO Steel Building Systems today at 940.383.9566.
Our friendly and knowledgeable steel building specialists can answer every question you have about building a metal barn instead of a pole barn.
Get the whole picture— and a free quote— before you buy.
(Updated 8-4-2021. Originally published 12-23-2013.)