Part 1: Comparing Reinforced Concrete and Prefabricated Steel Buildings
Is steel or concrete the best choice for a low-rise commercial or industrial building project? For this comparison, let's look specifically at reinforced concrete buildings versus pre-engineered steel building systems.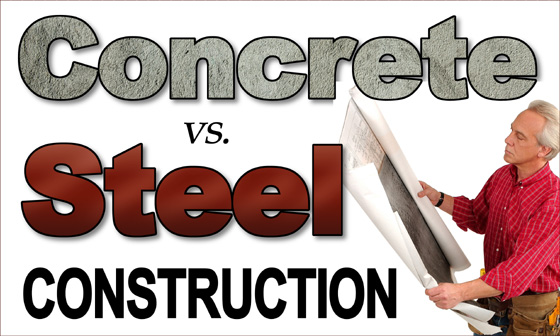 Poured-in-place— also known as cast-in-place— empties concrete into wall and column forms. The concrete "sets," drying in the forms. The builder then removes the forms and finishes the concrete.
Pre-engineered steel building systems use commercial-grade rigid steel columns and rafters to create bolt-together frames. The frames form the rib-like skeleton of the structure.
Steel girts and purlins connect the frames, completing the building skeleton.
Actually, steel and concrete buildings have a somewhat symbiotic relationship. Pre-engineered steel buildings generally rest on a concrete slab or stem wall foundation. Pre-cast concrete structures employ steel bars to reinforce and stabilize the concrete.
Design Possibilities: Steel vs Concrete Buildings
First, you must consider which material best suits your design. Does concrete or steel offer the greatest flexibility?
CONCRETE: Any shape is possible with concrete. It simply molds to the form fashioned for it.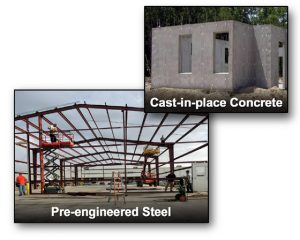 However, the massive weight of concrete limits its ability to span great distances without support columns. Bulky concrete columns limit maneuverability and usable floor space within the structure.
Creating cantilevers for overhangs or balconies is problematic and expensive with concrete. Cast-in-place concrete also does not easily accommodate large expanses of glass.
STEEL: The most economical shape for a prefabricated steel building is a basic rectangle. However, steel is also used to create more intricate designs, too.
Steel's greatest design asset may be it ability to span long distances without interfering interior columns. That is why aircraft hangars builders choose steel framing.
A clear span interior space provides greater floor plan flexibility. It also allows greater freedom for later changes and renovations.
It is simple to fashion dramatic cantilever designs with steel. The factory just extends the steel beams. The wide spaces between exterior steel columns leave room for large expanses of glass, too. If your project requires showroom windows, you would definitely find steel framing the better building method.
Size Limitations
The size of a building may determine whether concrete or steel is your best choice.
CONCRETE: While reinforced concrete shines in large-scale construction projects like dams, tunnels, and bridges, it may not be the best choice for every building project. The weight of concrete limits extended floor-to-floor construction height. Concrete builders find extremely wide spans difficult, if not impossible.
STEEL: A pre-engineered metal building (PEMB) can span up to 300 feet without any interior load-bearing columns. With minimal supports, a modular frame steel structure spans as much as 480 feet.
No limitations exist for the length of a pre-engineered steel building. The design simply adds more frames and bays to meet the buyer's needs. Consequently, extending a building's length for future expansion is a snap, too.
Aircraft hangars, churches, manufacturing plants, and warehouses often demand soaring ceilings. PEMB's easily reach 40-foot eave heights or more.
Availability
So are there any supply issues with concrete or steel building materials?
CONCRETE: All the ingredients for creating concrete— cement, sand, gravel, and water— are usually readily available and inexpensive. The steel rebar for reinforced concrete also exists in plentiful supply.
Concrete's only drawback comes when greater construction demand— such as after a major hurricane, earthquake, or other natural disaster— temporarily exceeds supply capabilities for cement.
STEEL: U.S. steel companies produce 7.2 million tons of structural steel annually. Currently, over 2,300 fabrication shops operate across the country, with a maximum capacity of 9 million tons per year. Consequently, American steel manufacturers can easily meet all building demands.
Safety
Every building owner wants a strong, durable structure that stands up to nature's challenges. So, which material promises greater building safety, concrete or steel?
CONCRETE: Concrete produces a strong structure that is resistant to damage from fire, wind, and termites.
Still, cast-in-place concrete structures do have one great safety concern: earthquakes. Under the duress of a strong quake, concrete can crack and crumble. The extreme weight of concrete structures makes injuries or death of occupants likely during a collapse.
STEEL: As an inorganic material of unparalleled strength, steel brings built-in resistance to fires, lightning, high winds, heavy snows, mold, and termites.
However, steel's greatest advantage over concrete may be in earthquake country. The ductility of steel allows the framing to absorb an earthquake's destructive energy. Moreover, the high-strength steel connections allow a slight rotation at the joints, so steel members do not separate and collapse easily under the stress of a tremblor.
Which Costs Less: Concrete or Steel?
Let's face it, the bottom line has the greatest influence on which building system we choose. That's why you do not want to miss part 2 in this series. In it, we compare costs of steel versus concrete construction.
In the meantime, feel free to try our user-friendly RHINO online design program to create a draft of your ideal structure. And check out our quick online quote system to get an idea of the cost of a steel package.
For more information and a more detailed quote, call 940.383.9566 and speak to one of the RHINO metal building specialists about steel versus concrete construction.