How Does Bay Spacing Affect Metal Building Pricing?
If you are new to pre-engineered metal building construction, it pays to understand a few basics, like the importance of the steel building bay spacing.  But what exactly is a metal building bay?
Steel Building Bay Definition
Prefabricated metal buildings start with primary steel framing.  The primary steel framing consists of commercial-grade, rigid-iron steel columns and rafter beams.  Rafter beams connect the two steel columns, forming one "frame."
Think of a frame as a rib in the building's skeleton.
A "bay" is the distance between two frames. Each frame supports one-half of the bays on either side of it.
Why is Bay Spacing so Important?
Steel building bay spacing affects pricing.  For most applications, pre-engineered steel building bays are erected every 20' to 25'.
However, steel bays can be engineered for longer or shorter spacing if required by the design.  For example, if a large side-entrance opening needed to be in a specific location, the structure is designed so that a frame does not intersect the location of the opening.
Longer steel construction bay spacing requires heavier steel columns, which drives the price of the steel package higher. Of course, shorter bay spacing entails more steel columns, which may also increase the price of the package.
In general, we find the 20' to 25' steel building bay layout is the most cost-efficient use of steel.
Cost-Effective Design Advantage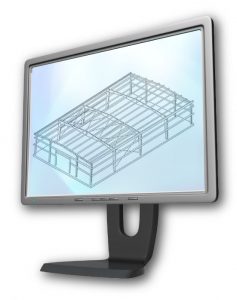 One of the great benefits of a steel framing system is today's integrated structural steel design software.  A modern engineering triumph, this sophisticated computer-aided-design software creates the strongest possible structure with the least amount of steel.
Wood is inconsistent by nature.  Its tensile strength varies with the species, growing region, age and size of the tree, moisture content, chemical treatments, and processing.
Steel's strength, on the other hand, is consistent and verifiable.  It is produced in strict accordance with national standards to precise tolerances.  Each piece of a similar type and gauge is uniform in size and weight, and will perform exactly the same as all other similar components.
Consequently, pre-engineered metal building kits are designed for maximum efficiency at minimum cost.
RHINO: Efficient and Cost-Effective
Here at RHINO Steel Building Systems, we strive to provide our customers with the most square-feet-per-buck.  Through the efficient use of steel, we keep prices low and expectations high.
"The RHINO customer service support was excellent.  I am very pleased with the whole experience and with the building itself.  I'll definitely use RHINO again for any other building projects."   — Rick Moore, builder and owner of the Pourhouse Sports Grill in Denton, Texas
Don't delay.  Call RHINO today at 940.383.9566 and learn more about the best deal in steel buildings!