General Steel Structure Cold Weather Maintenance
Readying your steel building for winter is simple— and extremely important.  Remember, it always costs less to prevent problems now than to make repairs later.
Prepare Your Steel Building for Winter Now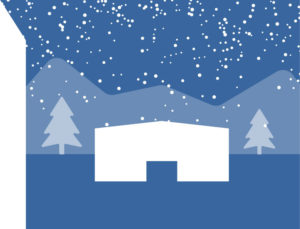 Fortunately, a steel structure requires very little maintenance.  Perform these simple tasks now to prepare your metal structure for a problem-free winter:
DO IT NOW:  Resist the urge to procrastinate.  The longer you delay, the greater the chance winter will blow in before you are ready.
PRUNE:  Prune back any trees or bushes that have grown too close to your building's surface.  Remove any foliage that could rub against the steel panels in strong winter winds.
Remember, heavy snow and ice accumulates on trees during storms, weighing them down.  Trim away any branches close enough to bend or break, damaging your roof.
REMOVE DEBRIS:  Remove leaves, twigs, pine needles, and dirt from the roof.
Any substance that holds water on the roof can ultimately cause problems.  Unfortunately, waterlogged debris tends to gather around the screws on a metal structure, inviting corrosion.
WASH THE STRUCTURE:  Wash the general steel exterior of the building, including the roof.
Any mild household cleaner mixed with water warm works well.  Use a very soft-bristled brush or a low-pressure power washer to clean gently.  Afterwards, rinse the metal structure thoroughly with water.
CLEAN GUTTERS:  Gutter maintenance is a prime part of protecting a steel building for winter.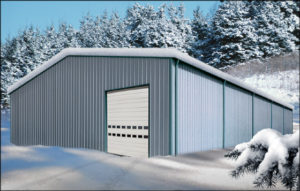 Be sure to route rain, snow, and ice away from the steel structure.  Be sure that all the gutters and downspouts are firmly attached to the metal building.  Lastly, remove all dirt and plant debris from gutters and downspouts.
CHECK SEALS:  Examine your entire roof for any corrosion or scratches.
Check the seals around skylights or vents for any sign of cracks or voids.  Inspect flashing around chimneys, valleys, or pipe boots.
In addition, examine all window and door seals to be sure they are tightly sealed.  If necessary, reinforce seals with a weatherproof sealant.
An Ounce of Metal Building Maintenance is Worth a Pound of Problems
Wood-framed buildings require extensive maintenance.
Here is why:
Wood framing warps, rots, creeps, and twists.
Long spans over garage doors sag over time.
Nails pop out, loosening the framing, which causes drafts around doors and windows.
Lumber-framed buildings require expensive treatment with harsh chemicals to prevent termite infestation.
To protect them from the elements, you must scrape and repaint wood buildings frequently.
Thus, maintaining a wood-framed structure is a hassle.
On the other hand, maintaining a steel building is easy.  An annual washing and simple inspection keeps a well-made prefab metal building in tiptop form.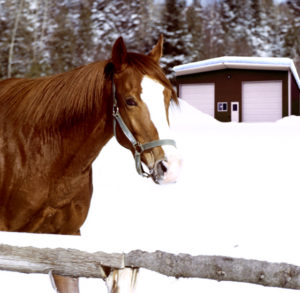 A steel structure simply lasts longer than other buildings.  Moreover, a metal building also retains its good looks and value far longer than wooden structures.
Another Metal Building Maintenance Tip
Should leaks occur, repair them quickly to prevent further damage.  Check the ceiling of your steel building for any signs of discoloration caused by condensation, water leaks, or mold.
Be advised, a metal building with inadequate ventilation may experience condensation problems.  Consider adding vents if needed.
Fortunately, a high-quality prefab metal building— like a RHINO steel structure— seldom has any waterproofing problems.
Conclusion
A durable prefab metal building outperforms and outlasts other structures.  And, best of all, readying an easy-care steel building for winter weather and snow is a snap.
Check Out our Tough RHINO Steel Buildings Today
Discover all the built-in waterproofing features RHINO includes with every prefab metal building package.  From a backyard workshop to a mighty mega warehouse, RHINO has you covered.
Please call RHINO now at 940.383.9566 for more information about our metal building kits.
When only the best will do, depend on RHINO's easy-care steel structures.
 (Updated 10-16-2019.  Originally published 11-3-2015.)