Part 2— Why Successful Mini-Warehouses are Going Digital
To attract and keep new customers, perceptive owners employ new technology trends for self-storage operations.
Technology is now the driving force in attracting new customers to any business. Consequently, successful, high-return businesses like mini-warehouses take advantage of digital products and marketing options.
Online Trends for Mini-Warehouse Marketing
Let's face it: self-storage does not sound "sexy." But glamorous or not, mini-warehouse operations rake in the bucks year after year. In fact, storage businesses make three times as much as Hollywood's annual box office gross. What more could you ask of a real estate investment?
(See part one of this series, which covers self-storage expansion and projected growth in the U.S.)
To stay profitable in today's economy, self-storage operations must make the jump to attract new customers where they now shop: online. Research shows that 70% of customers now locate businesses online.
Consequently, successful mini-warehouse operations boast snazzy websites that work seamlessly on computers and mobile devices. Smart operators stay connected to customers and prospects via email, messaging, and texting. They also take advantage of social media to propel customers to their facility.
Locally focused pay-per-click ads bring in the business, too.
It has never been so easy to zero in on an exact market niche. Data-rich analytical software now makes everything trackable.
Shrewd mini-warehouse owners invest in cutting-edge lead-tracking and rental-tracking products. These tools quickly define the strengths and weaknesses of the business and its marketing. By knowing what works— and what doesn't— business owners can focus marketing efforts with laser-like intensity.
Technology Trends for Self-Storage Facilities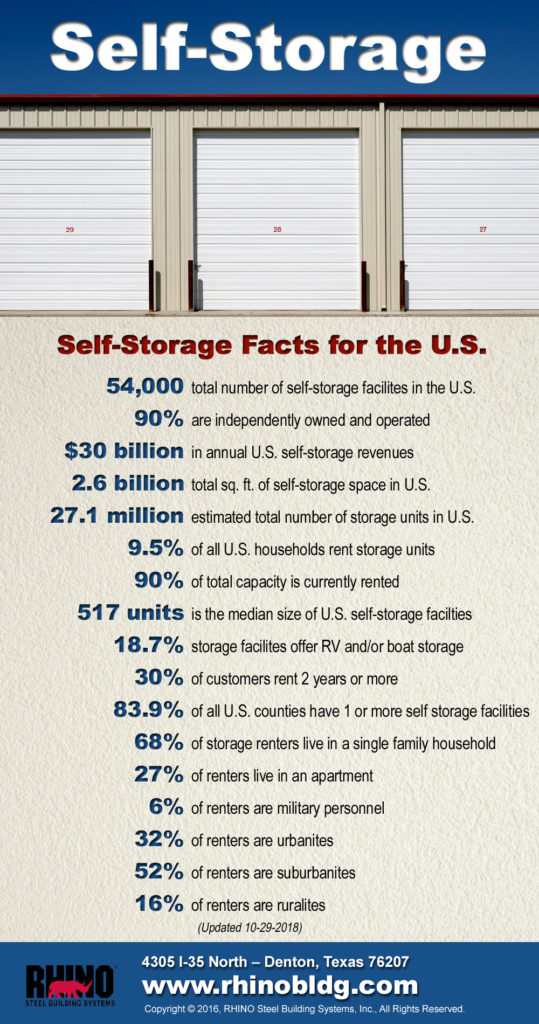 Online marketing is just one part of the new trends for self-storage today.
Self-service kiosks allow customers to seek information or even rent space without a manager present. There are even kiosks that scan for driver's licenses and fingerprints, culling out potential problem renters.
To serve today's digitally dependent college students and young adults, self-storage facilities use text reminders, online bill payments, and monthly auto-pay systems.
High-tech security systems encourage rentals, too. Video surveillance, door alarms, and bright lighting increase customer comfort. Tenants trust a rental business that provides excellent safety measures to protect their stored "treasures."
Sophisticated self-service tenants demand excellent service. Storage centers that exceed customer expectations keep tenants longer— and generate invaluable word-of-mouth advertising.
Trends for Self-Storage Buildings
We invite you to call RHINO today for more information about mini-warehouses, self-storage extensions, and other steel structures. The RHINO number is 940.383.9566.
Learn why RHINO stands out from the common herd of prefabricated metal building companies.
Don't miss part three in this self-storage series, which highlights the many ways pre-engineered steel buildings continue to meet the demands of an increasingly refined storage industry.