New Ideas to Raise Revenues for a Self-Storage Operation
Part 2 of this series on mini-warehouse expansion covered several traditional ways of expanding a self-storage business. However, you might consider other trends for your market, too.
Self-Storage Retail Store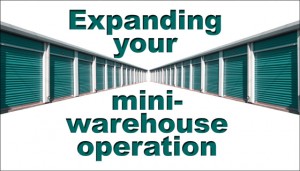 Adding a retail store to a mini-storage business expands profits. Customers appreciate the convenience of buying supplies and/or renting moving equipment on site.
For example, everyone needs locks for their units. Why send business to the local hardware store when you can sell locks to new clients?
People preparing articles for storage also require packing boxes in various sizes, bags, tape, markers, labels, protective covers, and other items to simplify the moving process.
Rent hand trucks and moving equipment to expedite the moving process.
Supplying beverages and snacks in your store keeps clients hydrated and energized.
If the recreational crowd frequents your location, consider expanding your inventory for their specific needs. RV and boat owners may choose to purchase biodegradable toilet tissue, insect repellant, fishing supplies, sunglasses, hitch locks, extension cords, safety chains, and small trash bags from you.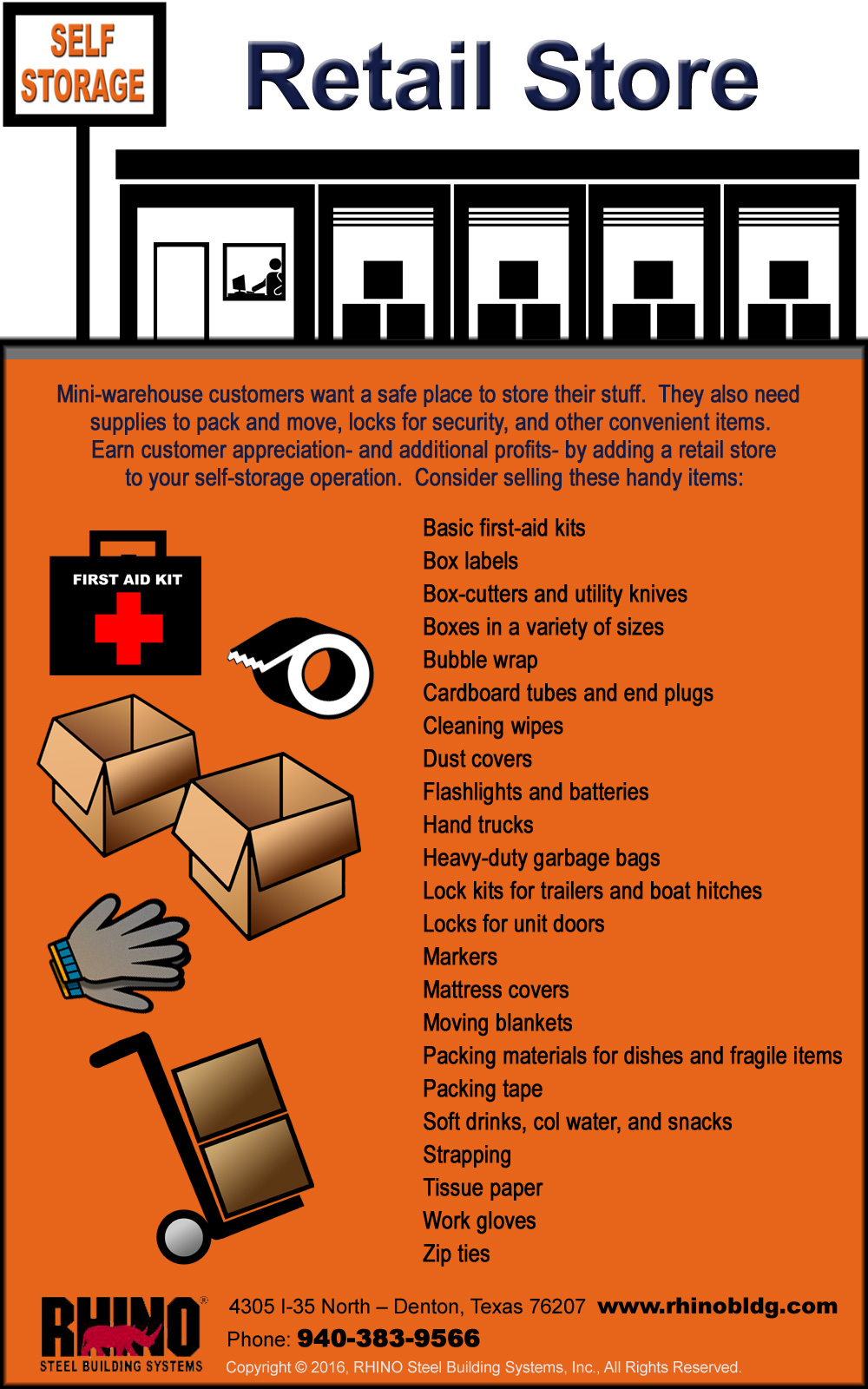 In addition to the merchandise in the infographic on the right, you may find other items on demand particular to your market.
Appearance counts. Design your retail space to be inviting and attractive. Keep your store adequately supplied, clean, neat, and well organized to improve sales.
Trendy and Unconventional Self-Storage Profit Centers
In some urban centers, particularly in the California market, upscale self-storage clients now buy their self-storage space instead of renting. Known as "condo storage," these facilities actually sell units to clients. Condo storage sales are handled as any other real estate purchase in the market.
Condo storage appeals to people who want to limit the transience of their storage neighbors. They appreciate the security provided by long-term storage "partners."
For example, several classic car owners might buy condo storage to protect their cherished automobiles at the same facility.
"Valet storage," another growing self-storage trend, finds a market niche in large metropolitan areas like New York City.
Also known as "concierge storage," or "on-demand storage," these companies basically combine moving and storage. They pick up the pre-packed items at the client's address, literally doing the "heavy lifting." They then haul the customer's items to their mini-warehouse for storage. The company returns the items to the customer upon their request.
Savvy Self-Storage Operators Choose Steel Buildings
Whatever your preferred method of expansion, pre-engineered steel mini-storage buildings provide the greatest benefits— especially over the long haul.
In the short-term, RHINO's prefabricated metal buildings provide attractive, affordable, structures that go up 33% faster than other building systems. Steel's high-recycled content makes it an ideal "green" building material, too.
However, the long-term benefits are where the RHINO building systems really shine.
Compared to wood-framed strictures, RHINO self-storage buildings are:
Stronger
Safer
Easier to erect— and expand later
More resistant to damage from vermin and termites
Stronger against howling winds, heavy snows, and ice dams
Earthquake resistant
Fire-resistant— and thus more economical to insure
Less expensive to operate as climate controlled facilities (with Pro-Value Insulation)
Practically maintenance-free
Designed with premium waterproofing features included
Resistant to mold, mildew, and the condensation problems associated with other building methods
More durable, lasting decades longer than wood structures
Simple to recycle at the end of the structure's usefulness
Please call RHINO at 940.383.9566 when you are ready to step up to steel self-storage buildings for your mini-warehouse operation.
RHINO's friendly professional metal building specialists will answer all your questions, provide expert advice, supply a detailed quote, and lead you though the ordering process.