Adaptable Pre-engineered Steel Buildings for Every Purpose
With the uninitiated, there exists a misconception that all metal buildings are boxy, barn-like buildings. The uninformed perceive pre-engineered steel buildings as simple utilitarian structures, available only in pre-determined cookie-cutter sizes.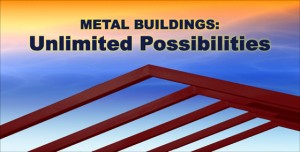 Wake up and smell the cappuccino, my friends!
Today's pre-engineered metal buildings are all purpose, offering unlimited possibilities for every low-rise application.
Whatever your structural needs, a prefabricated steel building accommodates your every requirement. Whether your building need is a detached home office, a mega-warehouse, or anything in between, a pre-engineered steel building is the perfect solution.
Unlimited Steel Frame Building Designs
Today's high-tech computer programs for structural steel make designing a metal building economical— and fast.
In essence, every steel frame building order is a custom design:
YOU decide where to build.
YOU choose the exact width, length, and height of your structure.
YOU select the framing style from seven basic possibilities.
YOU indicate the number, location, and style of the windows, doors, and openings.
YOU choose the amount of insulation required.
YOU pick from the many options available, including gutters and downspouts, skylights and wall lights, vents, and more.
YOU select the steel exterior roof, wall, and trim styles and colors— or choose alternative exterior materials like brick, EIFS, glass, Hardie board, rock, stucco, tilt-up concrete, or wood.
We do the rest.
Your steel building package is designed and manufactured specifically for you— and in an astonishingly short time. It is guaranteed to meet or exceed all your current local load and building code requirements— for the lifetime of the structure!
Once you approve the order, sophisticated steel structural software details the fabrication of every individual piece of the framing.
On to the Factory
Your order is sent to the manufacturing plant nearest your location.
Each column, endwall post, girt, purlin, rafter, and strut is cut to length, welded, and drilled by trained manufacturing professionals, under strict quality-control standards. They mark every piece of the framing kit to corresponding numbers on the plan.
The completed steel framing— along with the options you ordered— arrive at your job site, ready to assemble.
Unlimited Floor Plan Possibilities
No other steel frame building method matches the floor plan flexibility of a pre-engineered steel building.
A steel structure is self-supporting. Since few— if any— interior supports are necessary, you have complete floor plan freedom. Build interior walls wherever you want.
Businesses grow. Their needs change. Steel's open interior makes future remodeling or expansion a snap. Alter the interior floor plan any way you need, without the constriction of load-bearing walls. Add frames to endwalls to expand the size of the structure.
For investors, being able to adapt a floor plan quickly and easily for a new tenant is a huge plus.
Unlimited Uses
A pre-engineered metal building fits any low-rise application, including:
Aircraft Hangars:

Aircraft shade shelters, business offices, maintenance buildings, plane and helicopter hangars, and terminals

Churches and Worship Centers:

Administrative offices, bus shelters, classrooms, daycare centers, gymnasiums, meeting halls, sanctuaries, and offices

Commercial Buildings:

Big-box stores, boutiques, convenience stores, clothing stores, gas stations, grocery stores, lumber yards, retail centers, specialty stores, and strip malls

Farm and Ranch Structures:

Barns, dairies, horseback riding arenas, equipment shelters, hay sheds, livestock shelters, outbuildings, and stables

Garages and Storage Buildings:

Personal storage space, multi-purpose garage and storage spaced combined, or vehicle, boat, and RV storage units

Industrial Buildings:

Assembly plants, factories, industrial storage, lumber yards, manufacturing facilities, mills, oil and gas buildings, recycling centers, and fire stations

Mechanic Shops and Welding Buildings:

Car, boat, motorcycle, truck, and RV repair shops; vehicle showrooms, offices; auxiliary buildings; welding shops; vehicle transportation buildings

Office Buildings:

Accounting, corporate offices, legal offices, medical, office complexes, real estate, and veterinary offices

Personal Buildings:

Family recreation buildings, granny pods, guest cottages, hobby shops, home gyms and fitness centers, home offices, man-caves or woman-caves, multi-purpose residential buildings, and handyman workshops

Recreational Buildings:

Athletic centers, bowling alleys, community centers, country clubs, covered pavilions/picnic areas, dance studios, fitness centers, gymnasiums, indoor pools, indoor rock climbing, recreational centers, and sports complexes

Restaurants:

Bistros, cafeterias, catering businesses, family dining restaurants, fast food eateries, theme restaurants, and upscale dining restaurants

Self-Storage Businesses:

Self-storage facilities, and marine or vehicle storage centers

Warehouses:

Distribution centers, import/export warehouses, product fulfillment businesses, and shipping centers
YOU dream it, we fashion it in steel.
RHINO Steel Building Systems offers the finest product in the metal building industry. RHINO steel frame buildings are a solid investment— not an expense.
We also pride ourselves in providing first class service before, during, and after the sale.
We are driven to exceed all your expectations. Our customers apparently agree. In the past 12 months over 39.1% of our sales came from previous RHINO customers— or others referred to us by satisfied RHINO clients.
For unlimited possibilities, choose a RHINO metal building. Call today to find out more about our adaptable pre-fab metal buildings at 940.383.9566.