Why Metal Warehouses Dominate Industrial Construction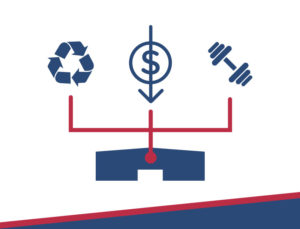 Warehousers today overwhelmingly choose to construct a steel warehouse over any other type of structure.
In fact, steel now claims 95% of all industrial building!
Below are seventeen advantages pre-engineered metal building warehouses bring to the industrial building market.
Pre-engineered Steel Warehouse Buildings are Strong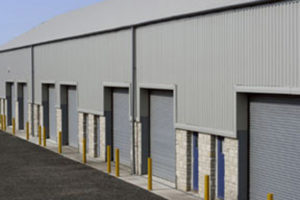 The inherent strength of steel provides:
Clear Span: Most distribution centers, fulfillment centers, and warehouse buildings require wide, open space.  A clear span steel warehouse needs no interior support columns.  Steel prefabricated warehouses offer unobstructed interiors up to 300' wide.
Ultra-Wide Structures: RHINO prefab steel buildings can be up to 480' wide with minimal support columns.  Imagine a structure as wide as the length of one-and-a-half football fields!
Limitless Length: There is no maximum length for a RHINO steel building design.
Towering Heights: RHINO's standard steel buildings reach eave heights of 40' or more.  Many warehousing operations maximize their usable space by building high ceilings and adding mezzanine floors.
Extra-Wide Openings: Steel's amazing strength-to-weight ratio permits extremely wide openings.  RHINO also offers overhead doors in a wide range of sizes and types.
Flexible Space: With clear span designs, the building's interior easily adapts to sectioning as inventory changes.
Damage-Resistant: Metal warehouse buildings offer extra protection from termites, fire, winds, lightning, and earthquakes.
Steel Prefab Warehouses are Cost Efficient
Metal warehouse buildings slash construction and operating costs, through:
Low Material Costs: The low cost-per-square-foot for pre-engineered metal buildings makes steel the most cost-effective way to build large structures.
Fast Construction: Steel's extraordinary strength means it is possible to construct a highly stable structure with few pieces.  Every piece of the framing is factory-built to exacting specifications in a quality-controlled environment.  Parts arrive at the site clearly marked and ready to assemble.  Consequently, metal warehouses cut construction by about 33%.
Minimal Maintenance: A metal warehouse building needs little upkeep.
Discounted Insurance: Commercial-grade steel framing earns lower insurance premiums, too.
Easy Modification: Steel buildings are incredibly versatile— inside and out.  The exterior can be finished in colorful, high-quality steel panels, glass, brick, stone, tilt-up concrete, EIFS, or stucco.  In addition, RHINO offers many finishing options, like gutter systems, mezzanine floor systems, skylights, vents, and more.
Durability: RHINO steel buildings retain their beauty and value year after year.
Economical Expansions: Choosing load-bearing endwalls simplifies future expansion— and provides more options for remodeling.
RHINO Steel Structures Provide a Healthier Environment
Workers will breathe easier in a steel-framed structure, because steel creates a:
Healthier Environment: Steel is inorganic.  It will not outgas like other warehouse building materials—nor will it support mold or mildew.
Green Building Starts with RHINO Steel Structures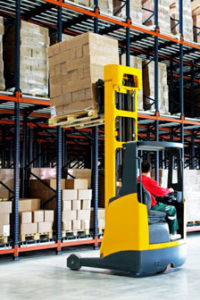 Steel uniquely qualifies as a green building material, due to its:
High Recycled Content: Recycled steel from 60-70 wrecked cars creates a 20,000 square foot steel building.
Energy-Efficiency: Properly insulated steel buildings reduce energy consumption by about 50%.  In hot-weather climates, using optional cool-coated steel panels lowers utilities even more.
Conclusion
With all the advantages steel provides, is it any wonder metal prefab warehouses rule industrial construction in the U.S. today?
RHINO Steel Buildings for Industry
Please call RHINO Steel Building Systems today for a fast, free quote on your steel warehouse, distribution center, fulfillment center, or other industrial project.  Chat with one of our expert steel building specialists to learn more about warehouse construction materials.  They bring hands-on experience and real-world solutions to your building project.
Whether you require metal warehouse buildings with 2,500 square feet or 2.5 million square feet, trust RHINO for the best building at the best price.
Why not call RHINO now at 940.383.9566?
 (Updated 5-27-2020.  Originally published 7-21-2015.)