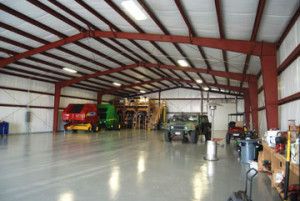 RHINO Steel Building Systems is a premium provider of prefabricated metal buildings. All of our prefab metal building kits are cut to length, welded to shape, drilled, and punched at the factory. The kit is shipped from the nearest shipping point, going directly to the job site for assembly.
Easy Assembly
Our prefabricated metal building packages are extremely easy to assemble. Each piece is clearly marked for easy identification, and the whole building is erected step-by-step in a logical manner with high-strength bolts and self-drilling screws, much like a giant erector set. A RHINO prefabricated metal building typically requires one-third less time to build than other structures. This not only saves time, but it makes RHINO buildings more affordable than traditional construction stick-built methods. Plus, many do-it-yourselfers opt to erect the framing themselves with a few friends, saving even more money on their construction projects.
Endless Uses
There are numerous applications for RHINO's prefabricated metal buildings. Here are some projects that have utilized RHINO buildings over the years:
Agricultural buildings like barns, dairies, equipment storage buildings, hay sheds, offices, riding arenas, shop buildings, stables, and tack rooms
Aircraft hangars for planes, jets, and helicopters
Auto, motorcycle, boat, and recreational vehicle dealerships
Automotive, motorcycle, tractor, or boat repair shops
Ballrooms
Bowling alleys
Churches and other religious facility buildings
Indoor swimming pools
Manufacturing facilities
Medical clinics
Mini-storage facilities
Multi-purpose garages
Offices
Personal workshop buildings
Recreational and sports facilities
Restaurants
Retail stores
Schools
Sports facilities
Storage buildings and shops
Strip malls
Suburban hobby huts and home offices
Veterinary clinics
Welding shops
And more!
---
Superior Steel
Not only are RHINO's prefabricated metal buildings ideal for so many projects, but they are also produced with the highest-quality steel materials. Steel has the greatest strength-to-weight ratio of any building material, and it is actually much "greener" than many traditional building techniques. Steel is the most recycled material in the world, and it can be recycled again and again without losing any of its innate properties or strength. RHINO framing contains an average of 90.7% recycled content. With the optional RHINO Pro-Value Insulation Package, these structures can also be incredibly energy efficient, slashing utility bills by as much as 50%.
RHINO prefabricated metal buildings provide extra protection from rain and condensation, lightning, fire, high winds, mold, heavy snows, earthquakes, aging, and termites and other vermin. All RHINO framing is guaranteed to meet or exceed all existing local building loads and codes for the lifetime of the building structure.
Flexible Sizing
Steel's superior strength allows RHINO prefabricated metal buildings to achieve column-free designs, offering maximum interior flexibility. Open, spacious interiors can span 300' without needing any cumbersome support columns. With minimal interior support columns, RHINO can be as wide as 480′. Our metal buildings can be up to 40' tall on a standard design, while even taller structures are possible with a custom quote. Any length required is possible. Furthermore, future expansion is simple and economical: simply add more RHINO steel framing at either end wall.
Experience the RHINO Difference
Reduced cost of steel construction, new and environmentally friendly materials, and precise manufacturing standards make RHINO an excellent choice for prefabricated metal buildings, whatever your building project.
All prefabricated metal building systems are not alike. Discover The RHINO Difference for yourself. Fill out our quick quote form, or call an experienced RHINO building consultant today to discuss what RHINO can do for your next building project: 940.383.9566.