Compare Metal Building Companies and their Kit Contents
How do you compare the steel building prices from various metal building companies?
By carefully checking what is included with their prefab metal building kits' prices.
Don't Just Get Metal Building Costs— Get the Details
Do not make the mistake of comparing steel building "apples" to "oranges."
A structural package's contents— and quality— can differ radically from one company to the next.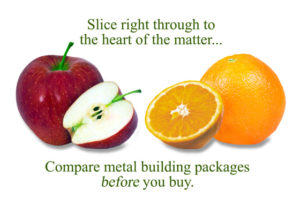 Too many customers choose the lowest bid, only to find they purchased a "lemon." The cheaper kit may be priced with inferior materials or missing key elements.
Be sure you know exactly what is included for the quoted price before you buy.
Framing Advantages Included in RHINO Steel Building Costs
The following items comprise the standard RHINO metal building package:
Prefabricated Steel Framing: RHINO uses only commercial-grade, rigid steel framing.
Every piece is cut, shaped, welded, drilled, and clearly marked for easy identification and assembly. Your steel building kit arrives ready to erect.
On the other hand, some steel building systems require labor-intensive field welding or additional site fabrication.
However, with many other companies, clips must be located and field welded or bolted on at the job site. This wastes time and increases the chance of mistakes.
Some metal building companies use cheaper, thinner 28-gauge or 29-gauge steel "R" panels. The tensile strength of these panels is far less than RHINO's panels.
Moreover, R-type panels overlap less than PBR panels. That creates a much weaker connection. Consequently, R panels are far more likely to leak air and moisture than PBR panels.
One Door Opening: Additional steel framing for a door opening up to 30' wide is already in the basic RHINO pricing at no extra charge.
Value-Added Features Included in RHINO's Steel Building Costs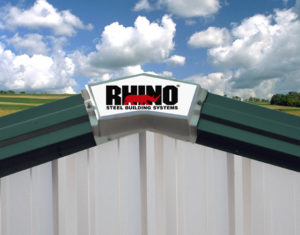 The following items are also included in RHINO prefab metal building kits' prices:
Steel Trim: RHINO's colorful steel building trim creates a more attractive and valuable structure.
Comparatively, most metal building companies supply no trim. Other metal building costs include limited trim, but not trim for the eaves, door openings, or windows.
Still other steel building companies only offer trim as an add-on to steel building prices.
Not only does the building look less professional without the matching trim, it leaves the steel around those openings exposed to the elements.
RHINO's steel building costs include a lifetime warranty for fasteners.
Conversely, cheaply made screws invite rust and leaks in the building.
Formed Base Trim: Without base trim, steel panels rest directly on the slab, allowing leaks and promoting rust. That is why all RHINO orders come with formed base trim.
Not only does this system eliminate panel rust, it can save $300 or more on concrete foundation costs.
Sadly, most metal building companies do not include formed base trim in their prefab metal building kits' prices.
Die-formed ridge caps: RHINO's ridge caps match the profile of the PBR steel panels for a perfect fit along the roof ridge. Both practical and attractive, die-formed ridge caps are included in all RHINO orders at no extra charge.
Other companies use cut-rate and unattractive flat ridge caps that leak air and moisture along the roof peak.
Most other steel building companies do not offer these valuable waterproofing features.
Free Bonus Items Included in RHINO Steel Building Prices
RHINO orders include these items at no additional cost:
Plans: RHINO metal buildings come with three sets of plans, plus an anchor-bolt plan. Most metal building companies charge extra for additional plan copies.
Installation Manual: In addition, a detailed construction manual arrives with the RHINO building package. RHINO's framing pieces bolt and screw together in a logical, easy-to-understand format.
Without detailed erection instructions, chaos rules the job site.
Inexperienced steel building crews and do-it-yourselfers are especially vulnerable to confusion and mistakes without adequate directions.
Construction DVD: Many people find audio-visual instruction easier to follow than written instructions. Therefore, RHINO also includes a DVD presentation of a steel building erection.
Bill of Lading: Do not underestimate the importance of a bill of lading! Without a checklist, erectors must hunt for missing framing pieces or correct package mistakes.
Consequently, RHINO includes a complete checklist with every steel building shipment.
Getting a building permit can be very difficult without this documentation!
Conclusion
Quite simply, you get more bang-for-your-building-buck with RHINO's metal building costs than with other corner-cutting metal building companies.
RHINO: Better Buildings for Value-Added Pricing
RHINO goes above and beyond to make ordering and constructing RHINO metal buildings economical and hassle free.
Contact RHINO today for fast, friendly, and free steel building prices for your building projects. Speak to a knowledgeable RHINO building specialist now at 940.383.9566.
(Updated 2-5-2020. Originally published 5-16-2014.)