Enjoy Complete Floor Plan Freedom with a Steel Home
---
Ready to get started?
---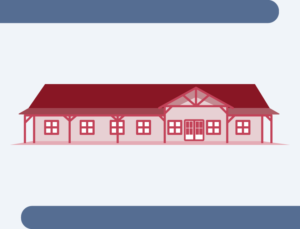 Today many rural landowners choose pre-engineered metal buildings to construct "barndominium" kit homes.
The steel barndominium kits trend began in Texas, but spread like a prairie fire. These attractive, sturdy, highly customized steel homes are now springing up all across the heartland. The term barndominium covers a huge range of residential styles, from a small weekend cabin to a modern and sophisticated country estate.
Long familiar with the positive attributes of metal buildings, rural people easily make the transition to using steel buildings as homes.
Design Your Own Metal Home
The number one benefit that rigid framed steel buildings bring homeowners is complete floor plan freedom. You can literally design your own home!
Wood-framed structures need supporting walls at key locations to prop up the overall weight of the lumber. These load-bearing walls dictate the floor plan. There can be no variations to the locations of the strategically placed load-bearing walls.
Light-gauge steel framing, while having less constraints that traditional lumber-framed homes, still needs weight-bearing interior walls.
Load-bearing walls often hamper later remodeling options, too.
Far stronger than wood or light-gauge steel, rigid-framed steel buildings create great open spans. Industrial-grade steel completely supports the building without any need for interior columns, much less load-bearing walls.
Design the home of your dreams, exactly the way YOU want it, without many restrictions. Let your imagination soar! Create wide, open spaces. Let living areas flow unobstructed from one space to the next. Revel in the spacious feel with towering ceilings.
There are several ways to arrive at your dream design:
• Sketch out your dream floor plan.
• Create your own home plan with consumer steel home design software.
• Work with an architect familiar with pre-engineered steel to finalize your plan.
When you decide on the plan you want, submit it to RHINO Steel Building Systems for a free quote. We can send you a preliminary anchor bolt plan showing the exact locations of the exterior columns, so you can adjust exterior door or window placement slightly, if needed.
Make Floor Plan Changes on the Fly
What happens if you want to change the plan after the steel ships?
No problem. Many people draw their floor plan right on the slab with chalk or soap. Decided you want to make the closet or pantry bigger? Adjust the plan. Want to take out a wall and open up the family room and kitchen? Do it.
Interior changes do not compromise the self-supporting steel skeleton of your barndominium. Consequently, later remodeling is a snap.
Home and Business under One Roof
Ever practical rural dwellers often build barndominiums to serve dual purposes. Clear span steel framing makes any combination of building and home possible.
For example, one portion of the structure encloses living quarters, while the remaining square footage houses a shop. Others choose to combine office space and home into one divided structure. Partition a barndominium into a home with an attached garage or storage area. Rural pilots even combine hangar and home in one convenient structure.
However, not everyone chooses to combine space in a steel barndominium. Most people use the entire structure as a home.
Build Your Own Dream Barndominium with RHINO
Many of our customers have created barndominiums using RHINO metal buildings.
RHINO steel buildings are not barndominium kits. RHINO does not offer cookie-cutter floor plans. We find our customers love the versatility and the freedom afforded by our steel buildings. Working with us, they make their home uniquely their own.
The RHINO steel buildings come with everything to create the exterior shell of the home. While we offer garage doors, exterior steel doors, and vertical slide windows as options, most steel homebuyers prefer purchasing residential-style doors and windows locally. (We also offer insulation packages as well.)
The RHINO package does not include interior framing. Some of our customers choose standard wood framing for interior walls. Others prefer the fire-resistance of light-gauge steel framing for interior walls. Both wood and steel interior studs are easily purchased locally.
Call this number now for more information and to design your own barndominium: 940.383.9566. Receive friendly cost-cutting suggestions, steel home design assistance, and a free quote on the barndominium of your dreams from RHINO.