RHINO Metal Buildings: The Best Building Choice for Vermont
It just makes sense to build structures with prefabricated steel buildings in Vermont.  Only pre-engineered metal buildings offer the strength and durability to stand up to the state's volatile climate extremes.
RHINO steel buildings ship all across North America.  However, our building system offers three benefits especially suited to the Green Mountain State.  Steel buildings in Vermont are:
Versatile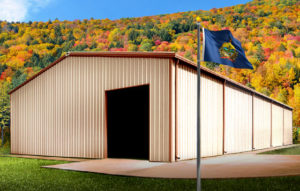 Metal buildings kits create the perfect frames for many commercial and industrial building.  Only steel supplies the strength to clear span 300 feet in width or tower 42 feet or more.  Widths up to 480 feet are possible with a minimum number of interior supports.
Pre-engineered Vermont metal buildings adapt well as:
Aircraft Hangars and Terminals
Automotive Garages, Mechanics, or Welding Shops
Banks and Financial Institutions
Barns, Hay Sheds, and other Agricultural Buildings
Big Box Stores
Car, Boat, Motorcycle, and RV Dealerships
Church Sanctuaries and Buildings
Firehouses and Municipal Buildings
Gymnasium and Recreational Structures
Home Shops and Storage Buildings
Manufacturing Plants
Medical Buildings
Offices
Restaurants
Retail Stores
Self-Storage Businesses
Stables and Riding Arenas
Warehouses and Distribution Centers
And not all steel buildings look like farm structures.  You may finish RHINO metal buildings in Vermont with any typical exterior product.  Choose brick, stone, stucco, glass, tilt-up concrete panels, or cement board to create the right look for your project.
Economical
Prefab metal buildings in Vermont are affordable to buy, to build, and to operate.  Our structures save owners money by:
Shipping from the factory nearest to the construction site
Cutting construction time by 33%
Earning big discounts on insurance
Slashing heating and cooling costs by 50% (with Pro-Value Insulation)
Lowering maintenance costs
Holding their beauty and resale value longer than conventional buildings
Damage-Resistant
The strength of steel and the pre-engineering of the structure combine to produce a highly stable structure.  RHINO steel buildings meet or exceed all current local building codes— for the lifetime of the structure!
That built-in strength allows RHINO metal buildings to thwart:
Creeping mold
Crushing snows
Destructive termites
Earthquakes
Fire
Pounding rains
Strong storm winds
RHINO Steel Buildings in Vermont
From a thousand square feet to a million square feet, RHINO Steel Building Systems has the right building at the right price for Vermont building projects.
Learn more about the ways RHINO stands out from the common herd of metal building dealers.
Call RHINO Steel Building Systems today at 940.383.9566.  Ask for a free quote.  Receive expert advice on your upcoming building project.  We are here to serve you!