Why RHINO Steel Buildings Trample the Competition
Building with steel is definitely the smart choice, but be aware that all metal building kits are not created equal.  Make sure you are getting the most building for your money before you decide who offers the best building kits for your construction project.
Test Our Metal Building Kits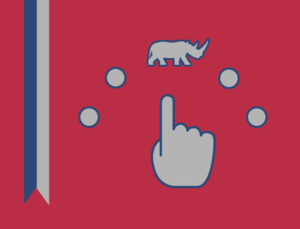 RHINO Steel Building Systems invites you to shop and compare our steel building kits to any others on the market.  A RHINO building delivers the features you want— and at a surprisingly affordable price.
First, let's take a quick look at the five basic types of steel structures used in low-rise construction today, including the following:
Arch Structures
Probably better known as Quonset huts, arch buildings feature a curved roof and walls.
Do you remember the old Gomer Pyle-USMC show?  Those barracks the Marines lived in were arch structures.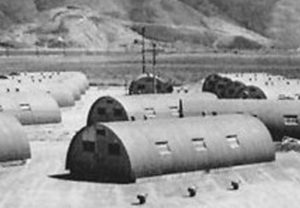 The corrugated steel exterior sheathing is all there is to the building; there is no framing.  It is much like half of a giant tin can.
Arch buildings are cheap to produce, easy to ship, and quick to set up or take down.  Consequently, arch structures worked great as temporary buildings for military use during World War II.
However, for today's builder, there are many disadvantages to using an arch structure.
First, there is usually no choice of exterior colors for the sheathing.  Because of the curved surface, arch buildings are nearly impossible to "dress up" with brick or stone to make them more attractive.
Secondly, because of the curved shape, insulating an arch structure is difficult.  The shape also makes finishing the exterior challenging.
Thirdly, the wider the building, the more unusable space there is along those curved sidewalls.
Plumbing and electrical may also be difficult to install.
Moreover, zoning restrictions in many areas prohibit the use of arch buildings.
Web Truss Buildings
In web-truss structures, steel trusses form the framing.  Parallel steel pieces connect with zigzags of metal between them, forming a web-like pattern.
Typically, web truss framing is spaced in 10' to 16' increments, which sometimes makes it difficult to place wider doors.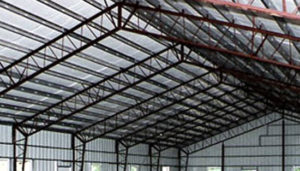 In addition, many companies do not supply framing for the end walls.  Consequently, builders must buy lumber and fabricate their own end wall framing.
Moreover, web-truss manufacturers tend to supply a much lighter, weaker gauge of exterior sheathing.
Birds also cause problems for web-truss building owners.  They love to nest and roost in the trusses.
Unfortunately, our feathered friends love to roost and nest in the web framing.  Naturally, that leads to "fowling" the building's contents.  That is not only messy, but can become a health hazard as well.
Light-Gauge Steel Buildings
Basically, light-gauge steel structures use the same building techniques as wood framing.  They simply substitute galvanized cold-formed steel studs for traditional 2 x 4 lumber in a "stick-per-stick" manner.
Building with light-gauge steel is very labor intensive.  All the steel is cut to length with a chop saw at the job site.  Generally, light-gauge framing places studs 16" to 24" apart.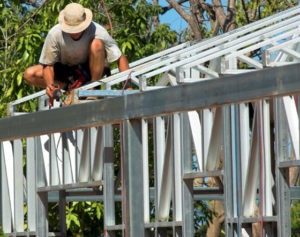 Light-gauge builders find battling heat/cold transference very difficult, too.  The small-capacity wall cavities limit insulation and thermal break options.
Although the steel itself is fire-resistant, light-gauge framing loses its strength in intense fires.  The framing can collapse without warning.  Consequently, firefighters dread fires in light-gauge steel buildings.
Some light-gauge building owners experience a problem on interior walls known as "ghosting."  Odd dark streaks sometimes form on interior walls along the framing, forcing owners to repaint frequently.
Welded Steel Buildings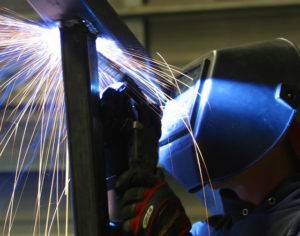 Weld-up buildings are cut and welded piece by piece on the job site.  This cut-and-weld-as-you-go rigid-frame building is time-consuming.  Moreover, it requires experienced, professional welders to erect the structure.
Generally, weld-up low-rise structures consist of red-iron "pipes" welded into a frame.  These structures have no engineering behind the design.  Therefore, permitting and building inspections becomes a huge problem in some locations.
RHINO Steel Buildings
RHINO prefab metal buildings take full advantage of the inherent strength of steel.  Consequently, RHINO metal building kits are able to clearspan large areas.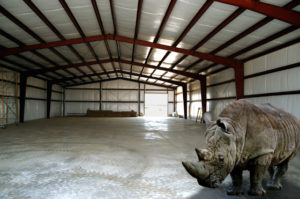 RHINO's framing consists of I-beam red-iron columns and rafter beams.  The structural components are computer-designed and manufactured for the builder's convenience.  The framing pieces arrive at the job site ready for easy systematic assembly.
RHINO's steel building kits typically slash construction time by one-third.
In fact, RHINO prefab metal buildings are so easy to erect that do-it-yourselfers often opt to erect small to medium sized buildings themselves with a few friends.  That saves even more on construction costs.
In addition, RHINO includes special clips pre-welded to the framing.  These clips make attaching the girts and purlins quick and easy for the builder.
Why RHINO Buildings Stand Out from the Common Herd

A RHINO metal building can be finished with heavy-duty 26-gauge steel panels in an array of attractive colors.  For a more traditional look, RHINO steel buildings can also be finished with brick, stone, glass, tilt-up concrete walls, or any other traditional building exterior material.
RHINO's metal building kits are strong, durable, and attractive. They retain their value and beauty decade after decade.  This framing is guaranteed to meet or exceed all current required building loads for the lifetime of the structure! 
RHINO's metal building kits are also the "green" building choice.  Our steel framing contains a high content of recycled material.
Moreover, the deep wall cavities created by the steel framing provide room for much thicker insulation.  With RHINO's optional Pro-Value Insulation Package, your energy-efficient structure slashes heating and cooling bills by a whopping 50%.
Our tough RHINO steel buildings includes many benefits and additional water-resistant features which are unavailable— or considered premium upgrade features— with other metal building companies.  Why pay more for the features that are already included in the RHINO standard building package?
Conclusion
RHINO's metal building kits are strong, durable, beautiful, versatile, simple to erect, easy to care for, eco-friendly, and economical.  Why would you build any other way? If you're looking for the best metal building manufacturer, choose RHINO Steel Building Systems.
A RHINO Building for Every Building Need
The RHINO prefab steel building system works well for almost any structural application including:
Agricultural buildings like metal barns and farm equipment storage
Automotive or truck dealerships, repair shops, machine shops, or fabrication facilities
Churches
Commercial buildings and office buildings
Equestrian structures like indoor riding arenas, open-air covered pavilions, and stables
Garages and RV storage
Industrial structures like manufacturing plants and warehouses
Personal hobby huts, home offices, or buildings for extra storage
Recreational buildings like pavilions, indoor sports arenas, indoor pools, ballrooms, or bowling centers
Retail buildings like restaurants, shops, strip shopping centers, and warehouse stores
Storage buildings and mini-warehouses
Learn more about what The RHINO Difference can mean for your building project.  Call now at 940.383.9566.
 (Updated 3-4-2020.  Originally published 10-10-2012.)