Steel Buildings in Alaska
If you're looking for Alaska steel buildings, there's no better choice than RHINO Steel. The extreme conditions of life near the Arctic Circle demand extreme structures, and RHINO's tough steel delivers.
Extreme Climate, Extreme Challenges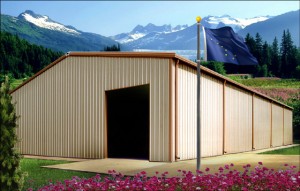 Alaska is one of the most beautiful places on Earth — with dense evergreen forests, abundant wildlife, and the breathtaking Northern Lights, people are drawn to Alaska for its rich natural resources and beauty.
However, living in Alaska isn't easy. Life-threatening winter weather, wildfires, and earthquakes test the inhabitants and their structures in this "last frontier." Thankfully, steel is ideal for the dangerous conditions Alaskans face.
ALASKA STEEL BUILDINGS BRAVE THE COLD
Alaska boasts the coldest temperature ever recorded in the U.S.: an incredible -80°F. Temperatures below -70°F are extremely rare in the "lower 48." In fact, Southeastern Alaska is the only part of the state where the average daytime high temperatures in winter top the freezing mark.
In punishing temperatures like these, there's bound to be problems. Fuel coagulates in storage tanks. Pipes burst. Vehicles won't start. In subfreezing temperatures, Alaskans use special electric blankets on parked vehicles to keep the water in the batteries from freezing.
This level of cold requires extreme protection, and pre-engineered steel buildings can withstand it all. Alaska steel buildings can be outfitted with RHINO's Pro-Value Insulation Package, our premier insulation system. This package utilizes thermal breaks and extra-strength vapors to keep metal buildings in Alaska warm. In fact, the Pro-Value Insulation Package has been known to cut energy bills by up to 50%.
WEATHERING THE WIND IN ALASKA METAL BUILDINGS
Winds as strong as major hurricanes are known to blow across Alaska. In 2012, for example, Glen Alps (a town just south of Anchorage) experienced a wind gust that clocked in at 131 mph.
Wind also leads to colder temperatures. In 1989, the cold combined with howling winds in Deadhorse, Alaska to plunge the chill factor down to -104°F — the lowest wind chill ever recorded in the U.S.
RHINO's Alaska house kits and metal buildings are built to stand strong against destructive winds. Steel has the highest strength-to-weight ratio of any building material, and RHINO buildings can be customized with winds in mind. A metal building, home, or storage shed in Alaska can be designed to have a low profile, a brick exterior (the most impact-resistant exterior material), few openings, and impact-resistant windows. And of course, all RHINO Alaska metal buildings are guaranteed to meet all local wind load codes for the lifetime of the structure.
STEEL'S STRENGTH IN ALASKAN SNOWFALLS
In most U.S. states, snowfall is measured in inches, not feet. That's not the case in Alaska. Valdez, Alaska is considered the snowiest city in the U.S., averaging over 27 feet of snow per year. Alaska's record snowfall of 81 feet occurred in Thompson Pass, northeast of Valdez, in the winter of 1952-1953. Thompson Pass also holds the record for the most snowfall in one day — a whopping 5.2 feet of snow in 24 hours.
While the idea of snow is romantic to some, heavy snowfalls can immobilize communities, trapping people in their homes. Massive amounts of snow on structures can even cause buildings to collapse.
Alaska metal buildings must hold up against major snow loads. RHINO offers slick roofing options that help snow, ice, and sleet slide off of Alaska cabin kits, homes, and other metal buildings without accumulating. Shunning gutters can prevent ice dams, and all RHINO steel buildings in Alaska are guaranteed to meet local codes for snow loads.
ALASKA METAL BUILDINGS IN LIGHTNING AND WILDFIRES
According to the Bureau of Land Management, Alaska receives a shocking average of 26,000 cloud-to-ground lightning strikes each year. Most lightning in Alaska occurs between May and September. Lightning deaths in the state can happen, but they are rare. The greater threat to Alaskans are wildfires triggered by lightning.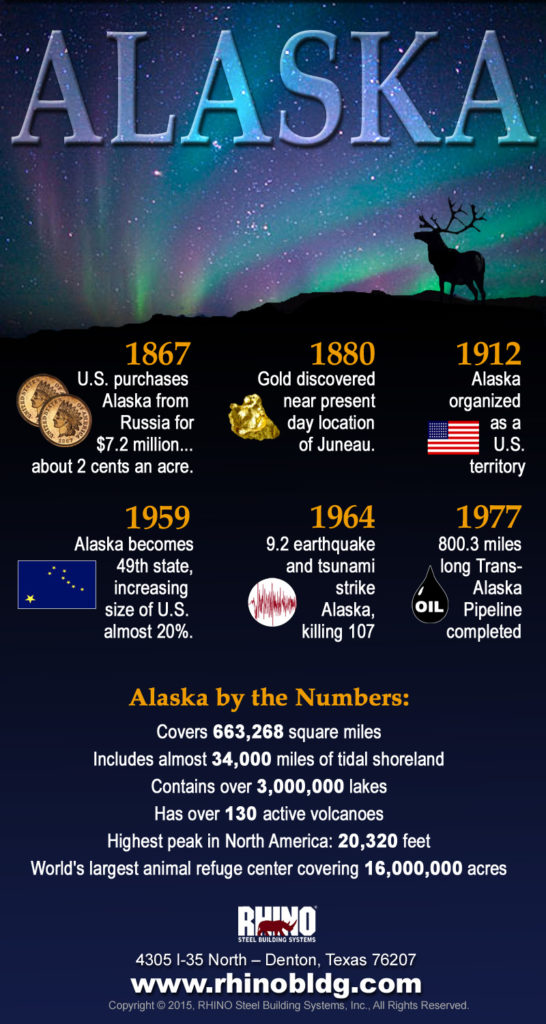 Responsible for 97% of wildfires in the state, lightning ignites fires that burn millions of acres each year. These massive Alaskan wildfires devour forests, destroy habitats, pollute air quality, melt the permafrost, and change ecosystems in ways we do not yet understand.
Steel buildings are ideal for areas that are prone to wildfires. As a non-combustible material, steel does not fuel fire like wood. Metal buildings, houses, and storage sheds in Alaska are far more fire-resistant than wooden structures.
STEEL IS STEADY IN ALASKA EARTHQUAKES
Alaska sits on one of the most active seismic areas in the world. Eighty percent of Earth's tremors occur in this belt. Alaskans endure over 4,000 earthquakes annually — more than all the other 49 states combined. Eight major earthquakes (i.e. over 8.0 on the Richter scale) have hit Alaska in the past 115 years. The infamous 9.2 quake, which struck Alaska in March 1964, created a devastating tsunami. Over 100 people lost their lives as the quake and tsunami decimated large parts of Anchorage and totally destroyed Valdez.
Steel is an ideal material for areas that experience earthquakes — unlike wood, which can split, crack, and twist. RHINO's Alaska metal buildings meet all building codes, including those for seismic loads, for the lifetime of the structure.
Build in Alaska with RHINO Steel
Strong and resilient pre-engineered steel buildings in Alaska are created to withstand the extreme challenges of the state. Call RHINO today at 940.383.9566 to speak to a metal building specialist. We can provide a free quote for your next building project or Alaskan steel building.