RHINO Named Top Metal Building Company… Again!
The largest steel producer in America recently named RHINO Steel Building Systems as the top volume customer in 2012.
8th Win for RHINO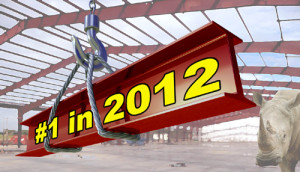 An official from the steel producer made the presentation to RHINO's staff and management at RHINO's headquarters in Denton, Texas. The award proclaims that RHINO ordered more tons of steel than any of their other customers in the metal building industry in 2012.
Largest Project to Date Shipped in 2012
Last year also marked a record single project for RHINO Steel Building Systems. A manufacturing company in Mexico ordered a massive 127,500 square foot steel building from RHINO. This 255' wide x 500' long behemoth was 42' in height.
To put it in perspective, this building is 95' wider and 140' longer than an American NFL football field, including the end zones. That's 45% bigger than a football field!
The order included over 400 skylights and a standing seam steel roof. The plan was so immense it required 30 eighteen-wheel trucks to haul the steel framing and building materials to Mexico.
Our largest order to date, this manufacturing plant also marked the largest single steel purchase ever made from the steel producer by a metal building company.
Other Large Projects in 2012
RHINO metal buildings shipped many large buildings ordered in 2012. Those in the 25,000-40,000 sq. ft. range seemed especially popular this year.
For example, the Oasis Beach and Tennis Club purchased a 130' x 300' x 20' RHINO steel building for their facilities in Rockwall, Texas.
Large steel warehouses in Argyle, TX built with RHINO Steel Building SystemsOne large metal building project has been recently completed in Argyle, Texas with a prefabricated steel building system supplied by RHINO. This steel warehouse is 133' wide and 250' long.
Outlaw Equine has a 100' x 300' RHINO steel building nearing completion south of Decatur, Texas. (This project is actually two connecting structures with 15' and 21' heights, which form a single building.)
These are just a few of the many RHINO building orders placed in 2012.
Another Milestone in 2012
There is one landmark reached in 2012 of which we are particularly proud. In the last twelve months over 30% of all our sales have been from repeat customers or those referred to us by former customers. Our goal is to supply the best possible product with the greatest customer service in the industry, so the number of repeat customers and referrals indicates if we are achieving that goal.
For us here at RHINO Steel Building Systems, this is just the beginning. Our accomplishments in 2012 just serve to fuel our desire go even farther in 2013.
Test Our Metal
RHINO supplies premiere rigid-frame prefab steel buildings across North America. Our metal buildings ship from numerous shipping points all across the U.S. We are proud to supply quality metal buildings for agriculture, aviation, commercial, industrial, storage, and personal use.  Call RHINO today at 940.383.9566.