Turning a Steely Eye to the Future of Prefabricated Metal Buildings
As we bid farewell to 2014, we here at RHINO Steel Buildings turn expectantly toward an even brighter future in 2015.
RHINO Steel Buildings: Grateful for 2014
Our sixteenth year in operation proved to be an exciting one.
Sales continued to grow. The past year produced our second highest sales on record.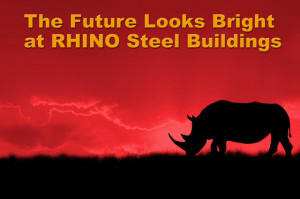 We shipped a number of interesting and unusual buildings during 2014.
A project shipped to Wisconsin last month, for example, will cover huge conveyer belts in a processing plant. This mammoth 18,720 square foot metal buildings sports a center section with a towering 85' eave height, bracketed by two 60' tall sections.
RHINO's list of returning customers expanded even further during the past year. Our referral rate climbed higher, too. In the past 12 months, 30% of our orders originated from previous customers and those referred to RHINO by happy clients.
RHINO still maintains an A+ rating with the Better Business Bureau. Consumer Affairs places RHINO in its Top 10 list of steel building companies.
Looking Forward to 2015
Industry experts predict U.S. construction starts to rise 9% in 2015. Dodge Data and Analytics expect commercial construction to increase 15% in the coming year, led by new office buildings. Warehouse structures are expected to lead new industrial construction in 2015. As pre-engineered steel buildings continue to grab a larger and larger share of the commercial and industrial building markets, we believe such predictions mean a rosy future for RHINO metal buildings.
RHINO's Pledge for 2015
Our New Year's resolution for 2015 remains the same as every previous year: to strive for excellence.
We believe by offering outstanding products and customer service, we build not only excellent structures, but also enduring relationships.
We offer a heartfelt thanks to all our 2014 customers for their patronage and support. Our staff and sales team greatly appreciates your devotion and loyalty to the RHINO brand. We pledge to continue doing everything possible to be worthy of your trust in 2015.
May this be just the beginning of the amazing projects we build together!
Call RHINO Steel Buildings now at 940.383.9566 to discuss your construction plans for 2015.