How We Remodeled Existing Steel Buildings for a Fresh, New Look
We recently acquired some property in Denton, Texas, which included two existing metal buildings. Our plans were to convert the property into a revenue-generating industrial business park.
Updating Existing Metal Buildings
We began the development with the two existing steel buildings.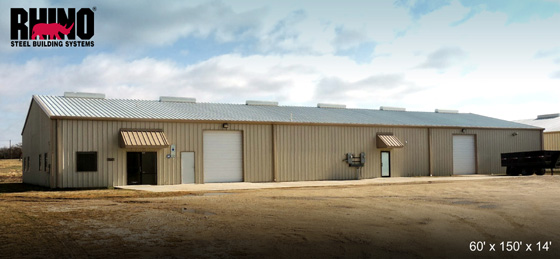 One structure is 15,000 sq. ft.; the other is 9,000 sq. ft. Both structures are 14' in height.
The steel framing on these buildings is in great shape. However, to increase the value to potential tenants, we updated the exteriors.
Renovations began by removing the weathered steel wall panels. New wall sheathing replaced the old exterior. Contrasting steel trim added to the new look. Steel gutters and downspouts matching the contrasting trim completed the basic look.
Increasing Energy Efficiency
Rather than stripping and replacing the roof panels, we added another roof over the old. Using an engineered system called Roof-Huggers, a retrofit roof system, created a space between the old and new roof. That allows for more insulation to be added over the existing insulated roof.
Substituting insulated overhead doors increased energy efficiency even more. We also elected to include automatic door lifts. Sturdy steel walk-in doors replaced the tired existing doors.
Eight-foot steel liner panels installed inside the structures offered a finishing touch.
The RHINO Business Park
We originally planned to call the development the Market Street Business Park. However, people continually called it the RHINO Business Park, so the name stuck.
Two new RHINO steel buildings— a 6,765 sq. ft. and a 17,000 sq. ft. structure— now stand ready for occupancy. (More on the construction of these two steel industrial buildings will be in an upcoming blog.)
Two more RHINO metal buildings are slated to begin construction in about two months. When completed, RHINO Business Park will contain ten steel buildings for warehousing or office space.
If you are interested in occupying any of these structures in Denton, Texas, visit www.RhinoBizPark.com. We will build to suit on the remaining spaces, if desired.
Build Your Own Money-Making Steel Buildings
Consider building your own income-producing industrial or commercial steel buildings. Whether it is an industrial park, commercial spaces, retail centers and strip malls, office buildings, a self-storage business, or RV and marine storage leasing, RHINO can help. Call us now to discuss the possibilities for steel building updates.
The RHINO Steel Building Systems phone number is 940.383.9566.
Or call our metal building specialists today about supplying new exterior panels, trim, and doors to update an older pre-engineered steel building.