The Many Ways Steel Is Used Today- Part 2
In PART 1 of this series on metal buildings and other steel products, we looked at steel's uses in transportation, agriculture, food packaging, and infrastructure. Now let's look at some of the other ways steel frames our lives.
More Steel Products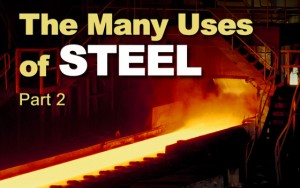 Our search for the uses of steel continues…
ENERGY INDUSTRY: How could the power-generation and oil and gas industries function without the strength of steel?
Steel creates electrical towers, gas and oil derricks, offshore oil platforms, pipelines, solar panels, storage tanks, transformer cores, transmission towers, and wind turbines.
MEDICINE: Everything from hypodermic needles to hospital beds, patient lifts, and wheelchairs depend on steel.
Surgically precise steel artificial joints, pins, and plates bring patients relief and renewed mobility.
The hygienic antibacterial qualities of stainless steel produce life-saving medical equipment. Steel forms surgical instruments like clamps, forceps, and scalpels. Stainless steel kidney dishes and operating tables grace the O.R.
Dentists, too, use instruments of steel.
Pharmaceutical manufacturing relies heavily on antibacterial stainless steel machinery in medication production.
MILITARY: All the armed forces count on specialized steel products from food trays to steel buildings.
Steel constructs most military modes of transportation, including Abrams Tanks, Bradley Fighting Vehicles, and Humvees. The U.S. Navy's aircraft carriers, battleships, heavy equipment movers, and nuclear submarines depend on the strength of steel.
Steel forms military firepower in field artillery, guns and rifles, missiles, and munitions. As in civilian aircraft, military jets and choppers also contain prodigious amounts of steel.
HOME: There are endless uses for steel right in our own homes.
Major appliances like dishwashers, freezers and refrigerators, washers, and dryers, are all steel-based products. Overall, steel make up 75% of these appliances by weight.
Listed below are a few of the other ways steel makes life easier in our homes:
• Aerosol cleaners and bug spray cans
• Bed frames and box springs and other furniture frames
• Canned food, bottle caps
• Counter-tops and stainless steel sinks
• Cutlery
• Door locks and keys
• Exercise equipment
• Exterior doors
• Fire extinguishers
• Gardening tools and wheelbarrows
• Grills
• Handrails
• Lipstick tubes
• Mowers
• Paint and chemical cans
• Paper clips, safety pins, needles, pins
• Pots, pans, cookware, and utensils
• Razors
• Safes
• Shelving
• Sprinkler systems
• Steel wool
• Trash cans
• Watches
• Zippers
What other examples of steel products can you find your home?
The Strongest Structures are Metal Buildings
RHINO's prefabricated metal buildings are the "green" building choice. Our 100% recyclable metal framing contains a high amount of recycled material.
The deep wall cavities created by our rigid steel framing system provide room for thicker insulation. With our optional Pro-Value Insulation Package, RHINO's metal buildings cut heating and cooling bills in half.
The RHINO-tough building system includes many benefits and additional water-resistant features unavailable— or treated as upgrades— with other metal building suppliers. Why pay more with other metal building companies for features already included in the RHINO standard building package?
Learn more about The RHINO Difference. Call us now at 940.383.9566.
The more you know, the more you will trust RHINO metal building systems. Try us just once and you will be hooked on RHINO for all your low-rise building projects.
Do not miss PART 3 in this series, which details steel's uses in the metal building industry.