Eco-Friendly Construction Practices for the Coming Year
Whether you are a professional builder or planning a personal construction project this year, consider building green. High-performance, sustainable building is not as difficult— or as expensive— as many people believe.
There are dozens of ways to reduce the environmental footprint of a construction project. Focusing on wise choices in the following two areas will reap great environmental— and financial rewards. Plus, you have the added satisfaction of knowing you are doing your part to improve life on our planet.
1. Choose Recycled, Long-Lasting Building Materials
The environmentalists mantra is REDUCE, RECYCLE, and REUSE. In construction, this means examining the entire lifecycle of a building material before choosing the most eco-friendly choice.
Pre-engineered steel buildings easily meet all three criteria.
REDUCE: Because of steel's inherent strength, pre-engineered steel buildings require far less material to construct an extremely strong structure. Metal buildings outlast wood structures by decades, further reducing the environmental impact.
RECYCLE: Steel is quite simply the most recycled material in the world. It is economical to recycle. More importantly, steel retains all its strength, regardless of how many times it is recycled. No other recycled material can make that claim.
REUSE: At the end of a metal building's usefulness, the framing is simply dismantled and sent to a recycling center, to live on in another strong steel application. The steel may be used for automobiles, major appliances, heavy equipment, bridges, ships, trains— or construction components for another steel building. Conversely, most wood and concrete structures wind up dumped into already overcrowded landfills.
2. Reduce Energy Consumption
Building green does not stop at primary construction. True eco-friendly buildings include ways to reduce the structure's energy consumption during use.
Buildings account for over half of the wasted energy expended in the U.S. each year.
Eliminating air leaks and increasing insulation creates more energy efficient buildings. Reducing energy consumption makes the structures more economical to operate, too.
Choosing appliances, heating and air conditioning units, windows, and doors with high-performance Energy Star® ratings also saves energy, decreasing the environmental impact of the building's operation.
Building Green with RHINO Steel Building Systems
RECYCLED: RHINO high-performance metal buildings create strong, durable, eco-friendly structures at an affordable price.
TIGHTLY BUILT: Steel framing components are manufactured to tight, specific tolerances. The framing pieces are straight and true. The building goes up square and straight— and stays that way over the lifetime of the structure.
Wood framing, on the other hand, settles and moves over time, in a process builders call "creep." Nails work out. The wood framing "loosens" and moves. Drafts and air leaks develop.
ENERGY-EFFICIENT OPTIONS: RHINO offers extra-thick insulation packages that cut heating and cooling bills by 50%. Insulated overhead doors and entry doors help reduce energy loss. For added energy efficiency in hotter climates, reflective cool-coated steel roofing panels are available from RHINO upon request.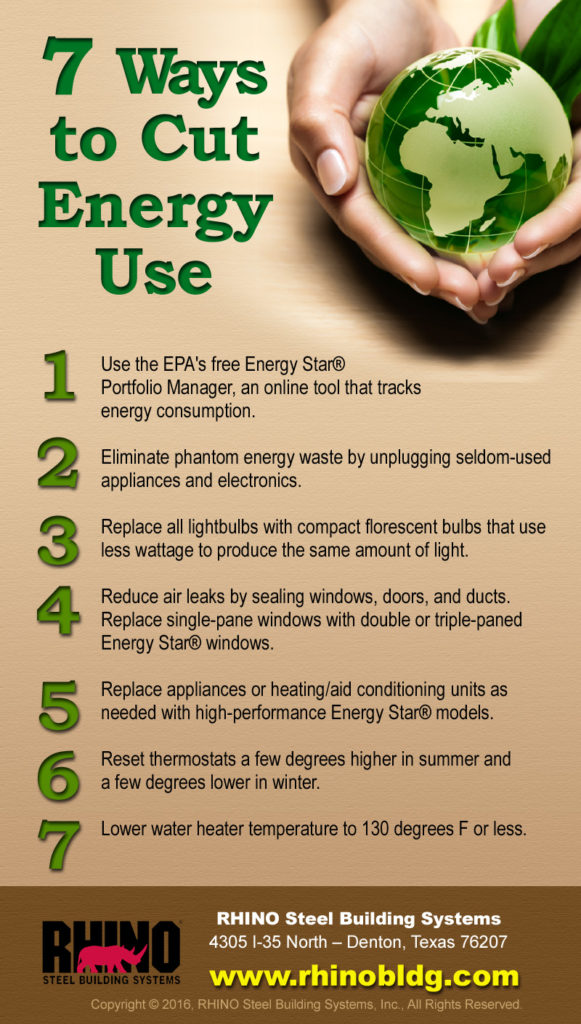 RHINO ships from multiple factories all across America, directly to your location. Our structures create:
Aircraft hangars
Automotive shops
Backyard hobby buildings
Barns and hay sheds
Churches and religious facilities
Commercial businesses
Farm and ranch buildings
Garages
Homes and personal structures
Manufacturing plants
Office buildings
Oil and gas buildings
Pavilions
Recreational buildings and gymnasiums
Restaurants
Stables and riding arenas
Storage buildings
Stores
Vehicle dealerships
Warehouses
Welding shops
Workshops
Call RHINO today at 940.383.9566 for more information on how you can start building green with pre-engineered steel.