Less Hassles and Headaches with Steel Building Systems
Pre-engineered metal buildings distill the building process to its simplest form. Steel building systems by design eliminate the wasted materials, wasted time, and wasted motion so often a part of building.
Whatever the application, choosing a dependable, easy-to-erect prefabricated metal building takes the stress out of construction.
Why Less is MORE with Pre-engineered Steel Buildings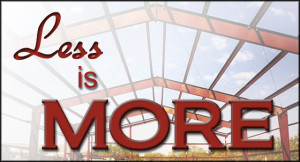 It sounds like an oxymoron, but less really is more with RHINO's simple steel building kits.
LESS TIME: Prefabrication makes steel buildings go up much faster than other building methods. Everything arrives ready to assemble. No need to measure, cut, weld, or punch the prefabricated framing components. It is like an erector set for grownups.
LESS FRAMING: Steel's strength means less framing pieces construct a far stronger structure very quickly.
LESS PEOPLE: The simplicity of pre-engineered steel buildings requires fewer erectors. Building crews are smaller, cutting erection costs. Many people opt to erect the framing themselves with a few friends.
LESS MONEY: Streamlined processing and fabrication makes steel building systems very affordable.
LESS HEADACHES: Pre-engineered metal buildings arrive clearly marked for quick identification. Doors, skylights, gutters, insulation, mezzanine floor systems, and other options ship with the framing.
LESS INSURANCE COSTS: The quicker a building goes up, the less builder's insurance costs. The faster the construction, the less time thieves have access to building materials, too. As a fire-resistant commercial-grade building material, steel buildings receive substantial long-term insurance discounts with most carriers.
LESS UPKEEP: Steel buildings require very little maintenance, cutting long-term costs over other building materials.
LESS TO OPERATE: Day-to-day operation costs less with prefabricated metal buildings. RHINO's optional Pro-Value Insulation System, for example, trims utility expenses in half.
LESS WASTE: Pre-engineered steel buildings produce very little waste. At the end of construction, sell remaining steel to the local scrap dealer.
LESS PROBLEMS EXPANDING: Expanding metal buildings is simple and economical, too— especially at the end walls. Just order more steel frames to add bays on either end.
LESS PROBLEMS REMODELING: Clear span steel buildings make floor plan changes a snap. A steel structure's frame is self-supporting. There is no need to stress about locating "load-bearing" walls. This is especially important to commercial lease property that needs to be adapted for each new tenant.
Less Hassles When Ordering
Less really is more with RHINO Steel Building Systems.
Call RHINO today at 855.389.5344 to learn more about our simple steel buildings and our service. Our experienced staff will answer every question. We guide you painlessly through the ordering process step-by step.
Every RHINO structure meets or exceeds every local building code for the lifetime of the structure— guaranteed.
Whether your next project is a barn or agricultural building, an aircraft hangar, an industrial complex or warehouse, storage buildings, commercial enterprises, a restaurant, an office building, or an indoor riding arena, RHINO's got you covered.