Why Steel Buildings Rule in Low-Rise Construction
Prefab metal buildings dominate low-rise construction— and with good reason. Economical to build, simple to erect, and cost-effective to operate, pre-engineered metal buildings (PEMB) are adaptable and reliable. Today PEMBs are the first choice for all commercial and industrial low-rise construction— and for residential accessory buildings, too.
Incredibly Flexible Designs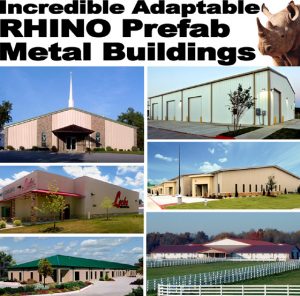 A fundamental rectangular box makes the most useful, economical, and material-efficient building design. That's the "sweet spot" for prefab steel buildings.
With today's advanced structural steel computer programs, RHINO Steel Building Systems are quick, economical, and accurate to design. Just order the building that fits your needs and your budget—let us take care of the rest.
PEMBs work on any foundation system, including perimeter footing, pier-and beam, and concrete slab.
Amazingly Versatile Sizes
The RHINO rigid-frame steel buildings are typically spaced 20' to 25' apart. Clear span buildings range from 10' to 300' in width. Adding a single center column in each frame allows structures as wide as 480'— that is exactly three times the width of an NFL football field! Only steel is strong enough to handle the loads for such massive dimensions.
PEMBs have no length restraints. And adaptable steel buildings are easily extended later as needs change.
RHINO's adaptable steel buildings can also be up to 40' or more in height.
Remarkably Precise Fabrication
RHINO prefab metal buildings are cut, welded, and drilled precisely to exacting industry standards. Tolerances are tight. When completed, fabricators mark each part for easy identification on the job site. It really is an adult-sized version of a kid's erector set!
Extraordinarily Adaptable Floor Plans
Since the steel structure is self-supporting, owners enjoy complete freedom for the interior layout. Place walls wherever you want.
Prefab metal buildings make remodeling for a new client a snap, too. Change wall locations and remodel as desired, without worrying about load-bearing walls.
Unlimited Facade Freedom

Today's metal buildings do not look like the old "tin" barns of Grandpa's day. There are no limits to the exterior looks available with a RHINO steel building kit. Complete the structure in brick, colorful steel panels, decorative block, EIFS, glass, Hardie board, stucco, stone, tilt-up concrete, wood— or in any combination of these materials.
Customize your structure with canopies, gutters, energy-saving insulation, mezzanines, overhangs, parapets, skylights, vents, wall lights, and attractive doors and windows.
The Countless Uses of Prefab Metal Buildings
You will find there is a prefabricated metal building solution for almost any application. Discerning buyers build PEMBs for every use imaginable. RHINO metal structures work well as:
Aircraft Hangars and Shade Structures
Automotive, Mechanic, and Welding Shops
Barns, Livestock Shades, Stables, Sheds
Churches
Commercial Structures
Dance or Martial Arts Studios
Daycare Centers
Distribution Centers and Warehouses
Equestrian Riding Arenas
Gymnasiums, Sports and Recreational Centers
Industrial and Manufacturing Operations
Office Buildings, Medical Clinics, and Veterinary Clinics
Outdoor Pavilions
Residential Storage, RV and Boat Garages, Multi-purpose Garages, and Workshops
Restaurants
Self-Storage Operations
Stores and Other Retail Businesses
Vehicle Dealerships and Showrooms
RHINO Steel Buildings: Driven to Exceed Your Expectations
RHINO offers the finest prefab metal buildings in the industry. We also pride ourselves in providing first class service before, during, and after the sale. We are driven to exceed all your expectations.
Every RHINO building comes with a letter of certification guaranteeing the building meets or exceeds all current local building codes for the lifetime of the structure. Join the herd of satisfied customers hooked on RHINO. Call 940.383.9566 today. Learn exactly what the RHINO Difference means.
For more ideas, visit the RHINO Photo Gallery.