Auto and Truck Repair Shops Test Steel's Metal
The best structures for mechanics garages and auto repair shops are pre-engineered metal buildings. Today's computer designed pre-engineered steel shop buildings provide the strongest possible auto shops— at the best price.
Auto Service Businesses Flourish in a Tough Economy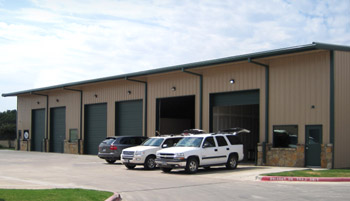 The potential for expansion in the auto repair field looks exciting.
Fewer people attempt to do their own repairs today.  Both individuals and businesses keep vehicles longer than ever before.
Demand is for quality auto mechanic work is rising.  Interest rates are incredibly low.  More qualified auto services businesses are required.  Many existing independent, chain, and dealership garages need to modernize and expand.
There may never be a better time to cash in on the car maintenance business than right now.
There many other vehicle repair businesses besides general auto engine repair shops, too.  Light trucks, heavy-duty trucks, fleet trucks, motorcycles, tractor and farming equipment, boats, buses, and recreational vehicles all need repair businesses to keep their engines running smoothly.
In addition, professional specialty garages include:
Automotive air-conditioning repair and services and auto and truck glass repair and installation facilities
Automatic transmission repairs
Automotive sound system installers
Brake work specialists and muffler and exhaust repair garages
Car washes and automotive detailing shops
Chain store and franchised mechanical repair facilities
Collision repairs, paint shops, and body work garages for automobiles and trucks
Automotive, truck, and recreational vehicle customizing shops
Diesel engine service
Front-end alignment and tire retailers
Independent automotive mechanic garages
Quick oil change and lube shops
Radiator repair shops
Service stations
Tune-up shops
Vehicle inspection stations
All of these businesses need sturdy, durable, fire-resistant, pre-engineered steel buildings.
Whether building a new car or truck repair enterprise or expanding an existing one, the best buildings are prefabricated steel buildings.
RHINO-Tough Metal Buildings Create Great Auto Repair Facilities
Just as an auto repair business nurtures and protects its reputation for integrity to remain in business, so must a metal building company.
RHINO has a sterling reputation for quality buildings and friendly, knowledgeable, professional customer assistance— before, during, and after the sale.  Customer satisfaction has its rewards; almost 38% of Rhino's current orders came from repeat customers— or those referred by satisfied RHINO buyers.
The Better Business Bureau also awards RHINO an A+ rating— the highest possible ranking.
Ask a RHINO steel building specialist today for a FREE quote on an auto service facility— or for any other metal building you made need.
Call RHINO at 940.383.9566.