RHINO Overhead Doors Increase Comfort and Convenience
RHINO provides a wide selection of metal building overhead doors. Choosing the right style and size for each overhead door requires a little thought and planning.
What Size Steel Doors Will You Need?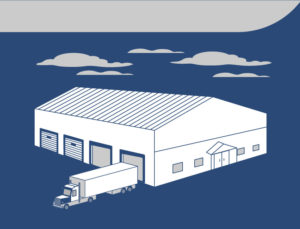 Think of what you will be moving through your overhead door— not only now, but also later.
For example, if you are building a steel garage at your home, you will need to measure any vehicles you plan to house in the structure. Be sure to include side mirrors when calculating the width.
Measure not only the overall height, but allow for anything carried atop the vehicle. Do you sometimes carry mountain bikes or canoe atop your car? Does your RV have an air conditioner or antenna mounted on top?
RHINO recommends ordering a steel building with an eave height at least two feet higher than your tallest overhead door.
Consider any future purchases you might make, too. For instance, if you are building a steel barn, choose a door wide enough to accommodate your current implements— and any other farming equipment you plan to buy later.
What is the Function of Your Steel Structure?
Metal building overhead doors come in both light-duty and heavy-duty styles.
For residential structures like steel storage buildings or steel garages, light-duty doors usually suffice.
Commercial applications like warehouses, auto shops, or manufacturing plants require heavy-duty commercial-grade metal building doors.
Where Will You Place Your Overhead Doors?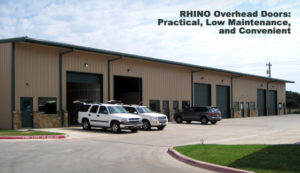 Framed openings for overhead doors are "factory located," meaning they are positioned for maximum strength in the plans.
You may install RHINO overhead doors for metal buildings on either the end walls or sidewalls. Endwall openings are the more economical choice.
Many businesses find overhead steel doors placed on opposite ends of the structure are convenient. That way, cumbersome vehicles may drive through the structure, rather than having to back out.
Unlike many of our competitors, RHINO steel buildings also include trim for all framed openings.
What Style of Overhead Steel Door Works Best for You?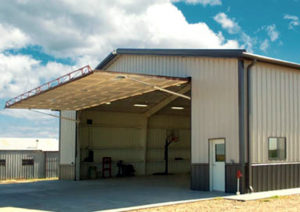 RHINO overhead doors for metal buildings are available in a variety of styles and colors to complement any structure. Options for overhead doors for steel buildings include:
Cylinder drum style or sectional metal building roll up doors
Manual or electric lift systems overhead steel doors
Insulated or non-insulated metal building doors
Overhead steel doors or without windows
Wind rated steel doors to meet— or exceed— all local building codes
Widths up to 36' (even larger widths available for hangar-style doors)
Bi-fold doors
A professional RHINO steel building specialist can help you choose the right metal building overhead doors for your next construction project.
Call the RHINO today at 940.383.9566.
(Updated 10-14-2021. Originally published 9-30-2014.)