10 Ways Steel Garages Save Money, Time, and the Environment
---
Ready to get started?
---
A prefabricated metal building creates three things property owners crave: vehicle security, space, and greater property value. Equally important to today's eco-conscious consumer, pre-engineered steel garages are green garages.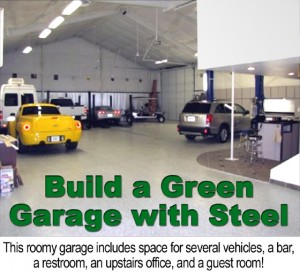 Can you even imagine all your vehicles— cars, boat, motorhome, riding mower—sheltered under one solid steel roof? Think of the possibilities that our eco-friendly garages offer! Do any of these garage options make your heart flutter?
De-cluttering the house
Crafting a workshop or hobby shop
Constructing a home office
Making a "down time" recreation room
Getting slim and trim in fully equipped home gym
A spacious eco-friendly garage provides ample room for whatever means most to you.
Let's look at just ten of the reasons so many people choose pre-engineered metal buildings to build detached garages and multi-purpose buildings.
Steel Garages are Eco-Friendly
1. RECYCLED STEEL: Pre-engineered steel structures make building green garages simple. As the most recycled material in the entire world, steel rules environmental-friendly construction. All new steel contains recycled steel. Steel never loses any of its incredible strength, regardless of how many times it is recycled.
2. LOWER ENERGY USE: Properly insulated, a metal building garage uses 50% less energy to cool and heat on a climate-controlled structure. A pre-engineered metal building (PEMB) creates a much-tighter structural envelope than wood-framed garages. The framing of a PEMB goes up straight and stays that way for the lifetime of the structure. Windows and doors shut tightly, reducing drafts and air leaks so common in lumber-framed garages.
Premium eco-friendly garages offer benefits and options that further enhance energy efficiency:
Reflective steel roofing panels
Insulated personal doors and overhead doors
Fasteners with washers resistant to damage from UV rays
Solar roof panel capabilities
Metal Garages Save Time— and Headaches
3. VERSATILITY: Divide the space anyway that works best for you. A clear span PEMB frame is self-supporting. No interior columns or load-bearing walls interfere with the interior layout. Owners enjoy complete freedom to design their own floor plan. A metal garage or storage building can sport any exterior treatment conceivable. Owners choose a zippy, long-lasting steel panel color, or add brick stone, or stucco to match the home's exterior.
4. QUICK CONSTRUCTION: A pre-engineered metal garage arrives at the site ready to erect like a giant erector set. A quality-controlled factory manufactures every piece of the framing kit to the exacting specifications of a structural engineer and steel industry standard. The components arrive cut, welded, drilled, painted, and clearly marked for easy assembly.
5. SIMPLE REMODELING: It is hard to know what the future will bring. As the needs of the garage owner change over time, so can the use of the space in the metal garage. The same versatility enjoyed when initially defining the building's space, also makes adapting and changing the interior layout easy and economical. Expanding a PEMB is also a simple matter.
Steel Garages Save Money
6. AFFORDABLE: PEMBs are the one of the most economical ways to build any low-rise structure. Steel's superior strength means far fewer pieces of framing create a much stronger and safer building.
7. LOWER INSURANCE: Faster construction saves on labor costs— and reduces builder's risk insurance. The fire-resistant qualities of a commercial-grade steel building reap big discounts on insurance premiums, too.
8. EXTENDED LIFETIME: Prefabricated metal garages and storage buildings out-last other buildings by decades. They provide greater protection for the contents from the elements. Steel's extra strength promises built-in resistance to storm-damage, fire, and earthquakes.
9. EASY CARE: Metal garage owners delight in the low maintenance afforded by a PEMB. Steel buildings are impervious to termites and wood ants, saving the cost and hassle of chemical insecticides. With a steel garage, there is no need for expensive painting every five or six years, either. Steel never rots, twists, bows, splits, or creeps like wood-framed buildings do.
10. HIGHER RESALE: Should the time come to sell, owners find a well-constructed metal garage increases the value of their property.
Trust Your Project to RHINO
Discover why RHINO Steel Building Systems earns the patronage of so many building buyers today. Whether your next project is a roomy eco-friendly garage with extra storage, a multi-purpose backyard structure, or a low-rise commercial project, RHINO can hook you up with the best deal in steel.
Why not speak to one of our friendly metal buildings specialists now? Simply call 940.383.9566. Before you know it, you will be enjoying your dream metal building garage, and you too will be hooked on RHINO!