Home Alone: Steel Buildings for Backyard Hideaways, Part 8
Imagine how your life would change if you had a backyard home office 25 feet from your back door, instead of commuting 25 miles away!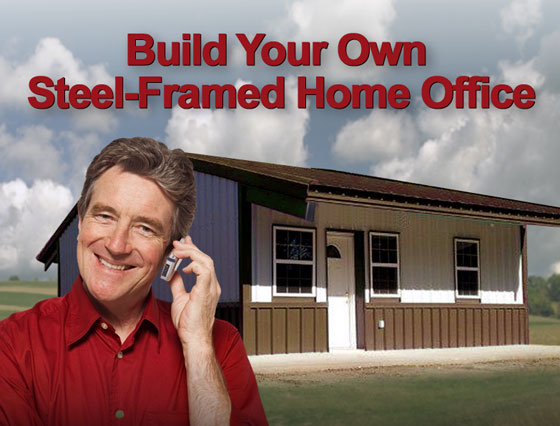 It is easy to build your own highly efficient, highly productive home office with a pre-engineered steel building from RHINO Steel Building Systems.
Spend More Time Computing and Less Time Commuting
Almost everyone needs a home office for personal use.
However, more and more people are working from home at least part of the time. Even those with full time remote jobs find themselves bringing more work home from the job.
In addition, many entrepreneurs are now starting their own full or part time homes-based business.
The statistics on home-based work are impressive:
The U.S. Bureau of Labor Statistics reports that one in four Americans now work from home, at least part of the time.
The number of state government employees working from home shot up 133% from 2000 to 2010.
The number of federal employees working from home jumped 88% in the same period.
According to the Telework Research Network, 79% of workers say they would happily work from home at least part time, if their employers allowed it.
According to USA Today, the average commute is 25.5 miles one way. However, about 8% of U.S. workers endure so called "mega-commutes" of 50 miles or more, according to the U.S. Census Bureau.
Typically, telecommuters save $2,000- $7,000 a year on transportation, clothing, lunches, etc.
Obviously, telecommuting is here to stay.
Making Working at Home More Productive
Finding space to work at home both large enough to accommodate all your needs— and quiet enough to keep you focused and productive— is difficult.
Quite simply, you are too accessible at home. Distractions abound. Boundaries between work and home blur. Noise and constant interruptions break your focus.
Remove yourself from the distractions and your productivity soars.
By building a separate backyard home office, you establish firm boundaries between family life and work life.
Thinking Outside the Box
If you ever invite clients to your office, you do not want them trudging through your house to your cubbyhole office next to the laundry room. Nor can you make a favorable impression on potential clients with your laptop on the dining room table.
You need an office which is near home, but not in your home. A separate space dedicated only to you and your work.
You dream of an office sanctuary tucked comfortably into your own backyard, conveying an "off-limits" physical boundary from your home life.
There is no better way to build a backyard home office than with home office construction from RHINO.
Why House Your Home Office with a Metal Building?
There are numerous advantages to building a backyard home office with a RHINO steel building. Our steel structured home office construction includes:
High-quality

commercial-grade

framing.

Eco-friendly

with a recycled content of as much as 89%.

Strong

, with higher built-in resistance to termites, vermin, wind damage, lightning strikes, fire damage, leaks, and earthquake damage.

Durable

, retaining their beauty and value for decades longer than ordinary wood framing.

Designed to fit all your specifications

and all local building codes.

Comfortable and economical

with optional high-grade insulation features, which also reduce outside noise.

Energy-saving

reflective cool panel steel sheathing is also available upon request, as well as skylights and wall lights for natural lighting for your workspace.

Factory produced kits

, with no need for you to cut or weld framing parts.

Delivered to your door

, ready for quick assembly, from the nearest factory.

Easy to erect

, so do-it-yourselfers can save money on construction.

Flexible

, allowing you to design your own floorplan— and change it— whenever needed.

Adaptable

to your aesthetic vision of a home office. Choose from attractive, high-grade steel exterior paneling, or cover your home office with brick, stone, or any other typical exterior façade material.

Easily expandable

, as your business or needs change and grow.
Get Even More Bang for Your Home Office Buck with a Dual-Use Metal Building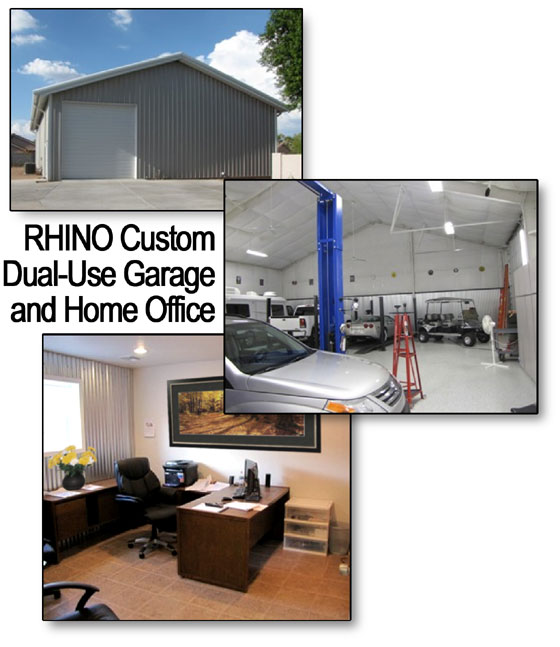 Many of our clients decide to incorporate a home office with another functional space.
You might to choose to have two separate offices for you and your spouse. Consider adding additional space to your dual-use steel building home office for extra garage or storage space, and RV garage, a man cave, a woman cave, or a workshop.
Bring Your Work Home to Your Own Backyard
For details about steel buildings and their unlimited uses as prefab office sheds or multi-purpose structures, call a RHINO steel building adviser right now. Our number is 940.383.9566. Free quotes are available for home office construction.