Using a Prefab Metal Building for a DIY Home Office
Imagine how your life would change if you had a backyard office 30 feet from your back door, instead of commuting 30 miles away!
It is easy to build your own home office with a prefabricated metal building from RHINO Steel Building Systems.
More Time Computing, Less Time Commuting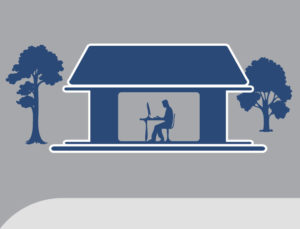 From 2005 to January 2020, telecommuting increased 173% in the U.S.
Fueled by the COVID-19 shelter-in-place phenomenon, an astounding 42% of the U.S. labor force now works from home full time.
In fact, according to recent statistics from Stanford economists, work-at-home employees now account for more than 66% of U.S. economic activity!
Not surprisingly, this trend is projected to continue. Many companies expect to shift employees to working from home at least one to three days a week even after the pandemic.
Make Working at Home More Productive with a Backyard Office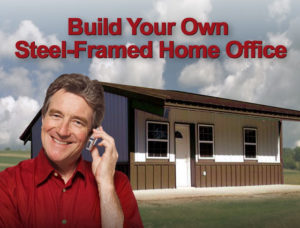 It can be difficult to find space to work at home that is both large enough to accommodate all your needs— and quiet enough to keep you focused and productive.
Quite simply, you are too accessible at home.
Distractions abound. Boundaries between work and home blur. Noise and constant interruptions break your focus.
Remove yourself from the distractions, and your efficiency soars.
By building an office in the backyard, you establish firm boundaries between family life and work life.
Thinking Outside the Box with a DIY Home Office
Imagine an office sanctuary tucked comfortably into your own backyard, conveying an "off-limits" physical boundary from your home life.
There is no better way to build a backyard office than with a RHINO prefab metal building.
Why a Metal Building Home Office?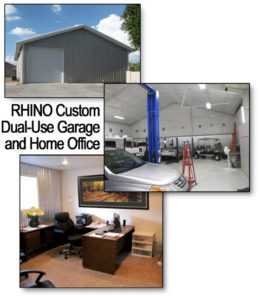 There are numerous advantages to building an office in the yard with a RHINO DIY home office kit. Our prefab steel structures are:
Commercial-grade steel framing
Strong, with built-in resistance to termites, vermin, wind damage, lightning strikes, fire damage, leaks, and earthquake damage
Durable, retaining their beauty and value year after year
Designed to fit your needs— and all your current local building codes
Comfortable and economical, with optional high-grade insulation features, for lower energy use and reduced noise
Prefab kits, with no need for you to cut or weld framing parts
Ready to assemble upon arrival from the nearest factory
Easy to erect, so do-it-yourselfers can save money on construction
Multi-Use Backyard Cottage, Garage, or Office Combo
Many RHINO clients decide to go beyond a simple office in the backyard. They incorporate additional functional space with their new home office.
After all, why settle for a dinky home office shed, when you can have so much more with a RHINO multi-use structure?
For example, you might choose:
Additional space for a garage or RV
A backyard guest cottage
A man cave, she shed, or hobby area
Your own shop space
Divide the space into a separate study room for home schooling the kids
The space in a multi-use backyard office easily configures into your exact needs. Equally important, clear-span steel buildings also reconfigure and remodel easily as your needs change over the years.
Conclusion
A RHINO DIY home office improves your efficiency and productivity as you work near home, but not in your home. It also allows you the option of including additional versatile and useful space for other needs.
Start Planning Your Private Office in the Backyard Now with RHINO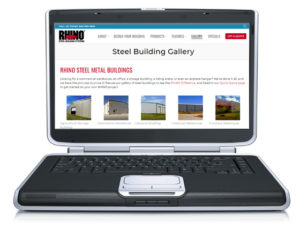 For details about RHINO prefab metal buildings and their unlimited uses, call a RHINO steel building adviser now at 940.383.9566.
You may also:
(Updated 8-19-2020. Originally published 3-7-2014.)