Discover the Versatility of Pre-engineered Metal Buildings
What do you picture in your mind when you hear "steel buildings"? A metal-clad barn? A gigantic warehouse? An aircraft hangar? A self-storage building?
Well you are right… sort of.
Hiding a Heart of Steel
While colorful, sturdy, low-maintenance steel panels work for many applications, they represent only one choice.
Steel buildings can look any other building system on the outside.
Any exterior finishing material you use on other building systems you can use with pre-engineered metal buildings. Brick, decorative block, EIFS, large expanses of glass, fiber/cement siding, stone, stucco, tilt-up concrete, or wood may grace steel building exterior.
Builders use these construction finishes alone or in combinations to achieve just the right appearance for the specific project.
Planning a brick medical complex? Frame it with steel.
Is your next project an office building with a stone exterior? Frame it with steel.
Building a jet ski dealership or a dance studio with generous expanses of glass? Frame it with steel.
Want a stucco exterior for a Tuscany-style restaurant? Frame it with steel.
Does your worship center need a new sanctuary with magnificent towering ceilings and wide, unobstructed space? Frame it with steel.
Or perhaps you are developing a Western wear store with a rustic wood appearance? Frame it with steel.
Whatever your low-rise building needs, you can— and should— build it with rigid-frame, commercial-grade steel.
Combining Exterior Materials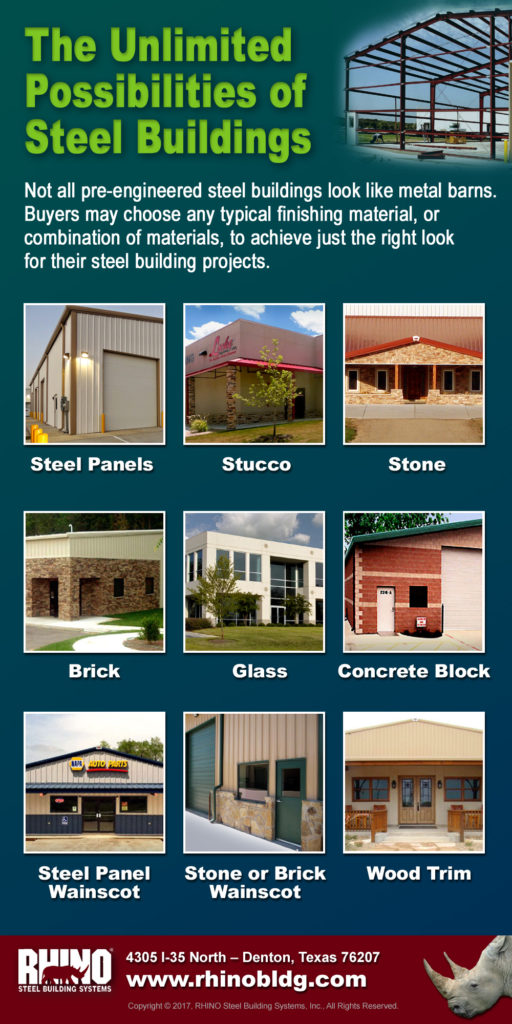 One poplar way to customize a steel building is to add wainscoting.
A wainscot is simply a contrasting material added at the bottom exterior wall, usually about 3-1/2' to 4' in height. Many clients create wainscots with a steel paneling and trim in a contrasting color. Others add brick, stone, wood, or other trim materials.
Buyers further customize steel buildings with canopies, gutters systems, energy-saving energy-efficient insulation, second floor mezzanines, skylights and wall lights, vents, and a host of door choices.
Build your versatile pre-engineered metal building on any foundation system, including perimeter concrete footing, pier-and beam systems, or the ever-popular concrete slab.
There is truly no building concept as versatile and economical as a pre-engineered metal building. Steel structures today are architecturally pleasing, yet still incredibly practical and durable.
Build It Better with RHINO Steel Buildings
RHINO pre-engineered metal building system is so versatile, it can frame any structure you envision. Start thinking outside the box. Let your imagination soar. If you can dream it, RHINO can produce it.
RHINO eco-friendly steel buildings are green. RHINO's commercial-grade framing contains a high amount of recycled steel.
Our metal buildings include many premium features on standard designs. RHINO ships from multiple locations across the US to every state, plus Canada and Mexico.
Let RHINO create a steel building package to fit your precise requirements— and in a surprisingly short time.
Call RHINO today at 940.383.9566. Our steel building specialists provide valuable expert assistance and free building quotes.
Try us just once and you will be HOOKED on RHINO Steel Building Systems!