37 Tips for Designing the Perfect "Granny Flat"
Part 1 of this series on building an in-law apartment in your own backyard covered the first 21 tips for a seniors-friendly home. Here are the remaining 16 tips for planning and building a safe granny pad.
In-Law Apartment Design Checklist continues…
TIP 22: Choose slip-resistant flooring materials, with non-glare surfaces. Carpet should be firm. Install low, dense padding for floor surfaces.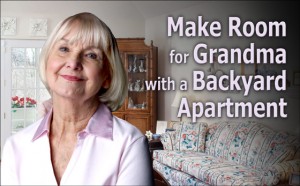 TIP 23: Install overhead kitchen cabinets about 3" lower than typical. Use lower cabinets with pullout sliding compartments or lazy Susans for simplified access. Glass-front cabinets make finding items easier for seniors.
TIP 24: Occupants with vision problems may find a contrasting stripe around countertops makes it easier to distinguish the edge.
TIP 25: Buy energy-efficient appliances.
TIP 26: Choose flat-topped electric ranges with front controls for safer cooking. Be sure the range includes a light to indicate when the surface is hot.
TIP 27: Ovens doors should swing to the side for greater safety.
TIP 28: Use a cabinet top microwave, or a lower-than average wall-mount unit.
TIP 29: Choose a side-by-side refrigerator for easy access.
TIP 30: Front-loading washers and clothes dryers are more manageable for the elderly. Raise the units 12" or more from the floor to increase accessibility. Stackable washer/dryer units also work well.
TIP 31: Too much white in the bathroom makes it difficult for people with macular degeneration or other vision problems to discern objects. Light, but contrasting colors on walls and floors help them navigate better. Some adults with dementia also react poorly to all white bathrooms.
TIP 32: Be sure all closet and pantry doors are easy to open and grant clear access.
TIP 33: Install easy-to-read or programmable thermostats for heating/cooling systems. Buy energy-efficient systems, preferably with HEPA filter systems.
TIP 34: If a garage or carport is too being included with the in-law apartment, build oversized to allow for taller vehicles with built-in lifts, as well as easy wheelchair access.
TIP 35: Today's technology offers a myriad of devices to increase the safety for the elderly. Add flashing lights or loud buzzers to phones, doorbells, and for smoke, fire, and carbon monoxide detectors.
Emergency call buttons in every room create a sense of security even for healthy seniors.
Web cams, flashing emergency signal porch lights, fall detectors, security systems, video systems, intercom systems, and other gizmos connect the senior to help in an emergency, allowing them to live independently with confidence. Check into the devices most applicable to your unique situation.
TIP 36: When furnishing and decorating, keep clutter to a minimum. Clutter is both a fall hazard and a fire hazard. Overcrowded and disorderly rooms promote navigation problems for older adults. A clutter-free environment is much easier to keep clean— and is less frustrating, too.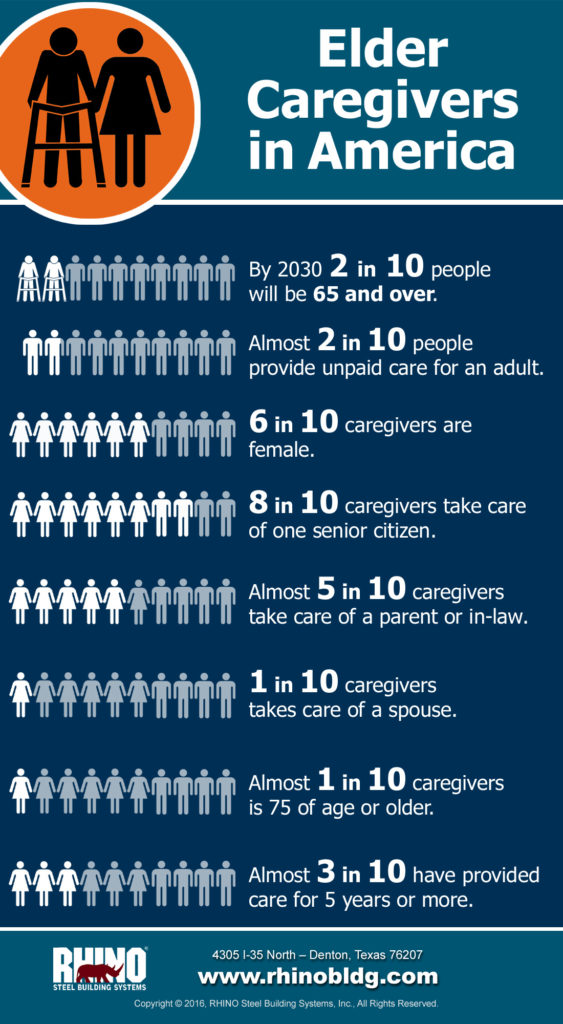 TIP 37: Landscape the granny pod with easy-to-care-for trees and plant, to keep yardwork to a minimum.
Enjoying the Golden Years in a Steel Home
For complete details about using a RHINO's steel building for a cozy and comfortable in-law cottage, call a RHINO steel building specialist today. They will help you select the right structure to fit your senior's needs, your building vision, and your budget.
Other backyard accessory dwellings units (ADUs) include man caves, hobby cottages, family gyms, and home offices.
RHINO's number is 940.383.9566.