RHINO Metal Buildings Celebrates Fire Prevention Week
National Fire Prevention Week seems the perfect time to examine how noncombustible steel structures help to prevent fires. Since 1922, the week of October 9 stands as a memorial to the horrific Great Chicago Fire, which burned October 8-10 in 1871.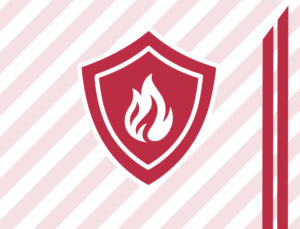 In fact, Fire Prevention Week remains as the oldest public health program in American history.
Fire-Resistant Steel Structures
The best way to prevent fires is to build fire-resistant structures in the first place. Pre-engineered metal structures prevent fires three ways.
First, steel is noncombustible. Wood certainly cannot make that claim.
Secondly, steel is never the point of ignition in a structural fire. Unfortunately, wood framing often ignites— usually from an electrical source.
Thirdly, once a fire ignites, steel never adds fuel to the fire. Wood does. That is why firefighters fear lumberyard fires. All those stacks of wood supply simply continue to feed the fire.
Beware: Not All Metal Buildings are Equally Fire Resistant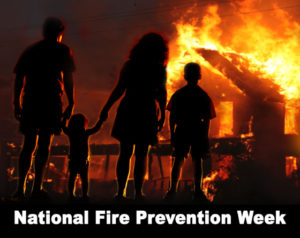 Low-rise commercial contractors use three main steel building methods today. They are:
Rigid red-iron steel framing
Light-weight galvanized steel framing
Hybrid systems using wood framing and steel trusses
Make no mistake— these three systems do not perform equally in structural fires.
Hybrid systems suffer the same fire-resistant inadequacies as wood. Once the fire reaches the framing, the lumber fuels the fire. Eventually the walls fail, bringing down the steel rafters.
Lightweight steel framing is noncombustible. It will not ignite, nor feed a fire once it starts. However, light-gauge steel loses its structural integrity in the heat of a fire. The framing can collapse without warning. Consequently, firefighters dread fires in light-gauge steel buildings.
Commercial-grade steel buildings provide the greatest fire resistance.
Does that mean RHINO steel structures are fireproof?
Certainly not. No building material can make that claim. However, the structural integrity of heavy-gauge steel stands up better and longer than other framing systems in a fire.
Insurance companies apparently agree. Most companies offer substantially lower premiums for commercial grade steel buildings, based largely on their superior fire resistance.
Fire Safety Tips
The National Fire Prevention Association (NFPA) recommends these fire safety tips to help protect you and your property from the devastation of fire:
Install Smoke Detectors: Installing smoke detectors is the single most important step you can take to protect your family from fire. Working smoke detectors cut the risk of fire fatalities in half.
Place smoke alarms in every bedroom, outside sleeping areas, and on every level of your home, including the basement and attic.
Check Smoke Detectors: Smoke alarms only save lives when they are actually working. Therefore, you should:
Test all smoke alarms at least once a month.
Replace conventional batteries at least once a year.
Replace smoke alarms every 10 years.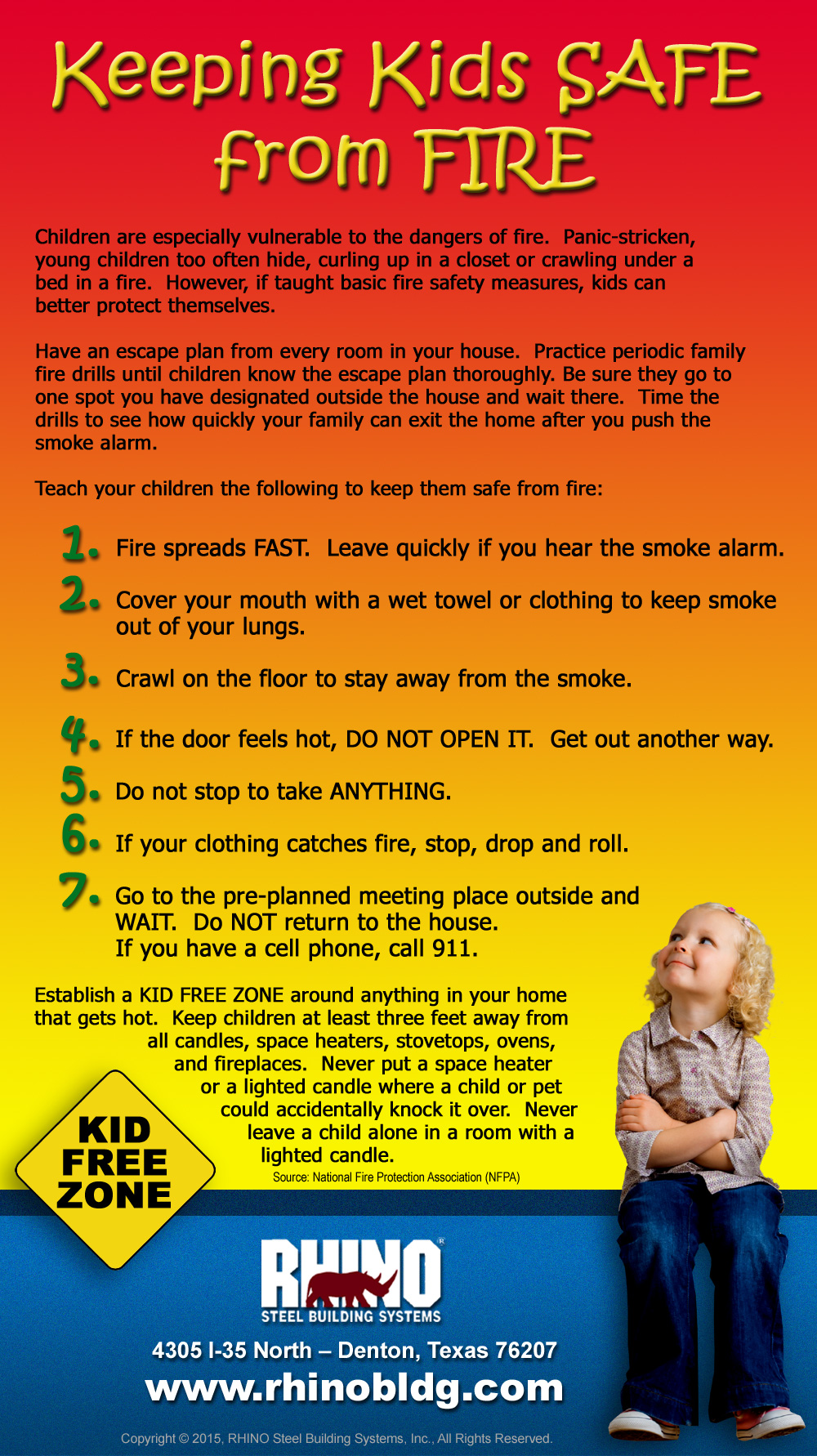 Create a Fire Escape Plan: Every family member in your home— or employee at your workplace— needs to know the quickest escape route before a fire starts. Choose a place outside where everyone will meet, a safe distance from the home or building. Purchase sturdy non-flammable escape ladders for upper floors.
Practice Your Fire Escape Plan: Your escape plan does not work if no one remembers the plan. Practice fire drills at least twice a year. Be sure all babysitters know your fire escape plan.
Leave immediately: Get out and stay out. Do not stop to collect important papers or mementos. Close the door as you exit the structure. Do not return once you leave.
Call for help: Wait until you are outside the building to call 911.
If you are trapped: If you cannot escape, cover the vents and cracks around the doors to keep smoke out of the room. Call 911. Stay low. Wave a flashlight or light-colored cloth at a window to signal for help.
Also, see the infographic at right for fire safety tips specifically for protecting children.
Conclusion
Build commercial-grade steel buildings for the greatest fire resistance.
Build with Fire-Resistant RHINO Metal Buildings
Consider RHINO's fire resistant buildings for your next construction project.
Affordable steel structures help prevent fires— and more.
In addition to being noncombustible, RHINO structures offer greater resistance to high winds, heavy snows, lightning, termites, and earthquake damage.
Learn more about the advantages delivered by RHINO metal buildings. Speak with a specialist at RHINO now at 940.383.9566.
(Updated 10-9-2019. Originally published 10-9-2015.)