Get Exactly the Right Structure for Your Needs
RHINO metal building systems create made-to-order metal buildings for every segment of the low-rise market.
RHINO steel buildings are not an "off the rack" product. Every customer receives a structure designed and manufactured specifically for them.
The Right Size, the Right Options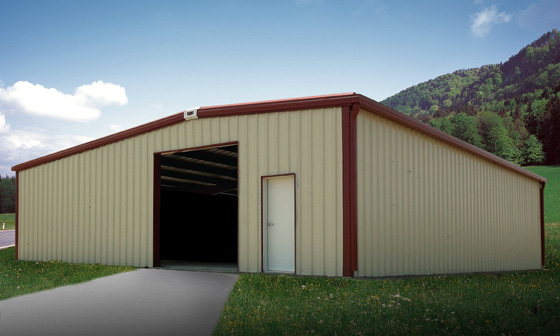 While all steel buildings are flexible enough for myriad uses, they are not all interchangeable. Every project and budget demands specific dimensions.
The size of your building must serve you and your purpose— and fit the space available. Each structure requires a different width, length, and height.
Choose any width from 10' to 480'. (Clear span structures are available up to 200' or more.) There is no limit on building length. Standard pricing applies to eave heights of 40' or less, but even taller structures are available with custom pricing.
If necessary, you can easily expand your custom made building later by adding identical steel framing to either endwall.
Once the size is determined, RHINO's steel building specialists assist you in choosing options for your metal building, such as:
Steel wall and roofing panel style and color
Trim color
Gutters and downspouts
Interior wall panels
Canopy choices
Louvers, vents, and roofing vents
Skylights or wall lights
Mezzanines
Vapor barrier types and colors
The Right Loads for Your Local Building Codes
Once you have chosen the basics, design and engineering for your custom made building begins. Local building codes for your site enter into the design of custom prefab buildings. Additional point loads for heavy air conditioning, interior cranes, and other building-specific information are also considered.
The Right Delivery Date at the Right Price
Once the structure is designed, the plans go to the factory nearest your location for production.
From order to delivery to your job site requires only four to seven weeks, depending on the size and complexity of your building. Everything arrives together at your job site, ready to assemble quickly and easily— no cutting, welding, or drilling required.
RHINO streamlines the entire process from start to finish. This system produces the strongest building at the most economical price.
Let us show you the RHINO Difference today. For a free estimate on a custom made building, call  940.383.9566.