How to Choose the Right Steel Building Company
Buying a metal building can be a dream— or a nightmare.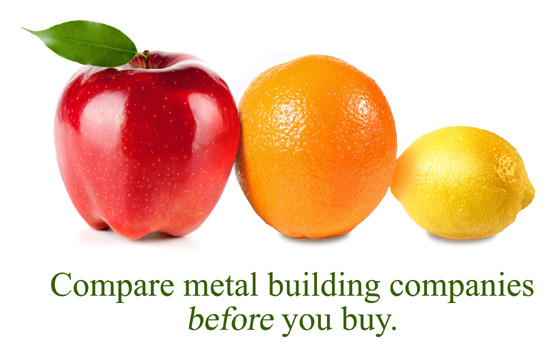 Before you invest in a pre-engineered steel building, do your homework. Be sure you are comparing apples to apples, not apples to oranges— or you might wind up with a case of buyer's remorse and a metal building lemon.
This is the first in a three-part series on comparing pre-engineered steel buildings. This article focuses on how to choose a metal building company. Part 2 concentrates on comparing metal building packages. The third installment discusses price comparisons.
Compare Metal Building Companies
Before you even consider the product and the price, investigate the company and compare framers.
How long have they been in business?  RHINO Steel Building Systems has been in business for 15 years.
Is their staff experienced and professional?  The average tenure of RHINO steel building specialists is 10.3 years. Most have many more years of experience in the metal building business. Both our president and founder (and his son and vice president) literally grew up in the steel building business.

Are they trustworthy?

RHINO maintains an A+ rating with the Better Business Bureau.

What do their customers say about them?

In the past twelve months, 39.1% of RHINO's sales were returning customers, or those referred to RHINO by satisfied customers.

Where are they located?

RHINO's headquarters are located in Denton, Texas.

Do they ship from other locations?

RHINO ships metal buildings from multiple shipping points across North America to ensure the lowest freight costs.
Do they stand behind their products?  All RHINO steel building orders include a letter of certification guaranteeing the steel frame will meet or exceed all local building codes for the LIFETIME of the structure.
RHINO: The Right Company for Your Metal Building Project
Test our metal. Thousands of RHINO steel structures now stand across America, Canada, and Mexico. More RHINO metal buildings are going up every day. We serve the commercial, industrial, aircraft, agricultural, and residential low-rise construction markets. Consider RHINO for your next project. Contact RHINO today at 940.383.9566.