When You Cannot Construct Your Own Metal Building
While many people confidently build their own pre-engineered metal building (PEMB), others prefer to use a professional steel building erector for their project.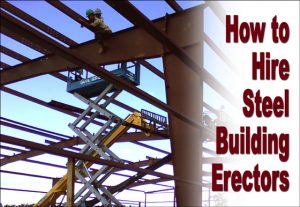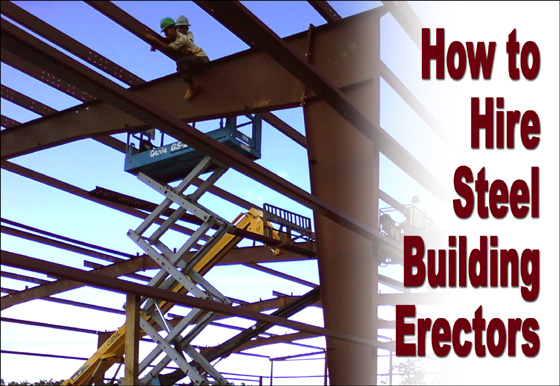 An expert steel building erector is critical to a successful large-scale commercial or industrial construction project. Sloppy or incorrect assembly of a PEMB effects structural integrity. Slipshod framing also leads to later problems and waterproofing issues with the building.
Hiring an experienced steel building erector with a well-trained crew keeps the project running smoothly and on schedule.
Consequently, it pays to do due diligence in finding the best framing crew for the job.
Ask Lots of Questions
When you are interviewing potential steel building installers, do not be shy about asking questions like these:
How long have they been in business?
Do they specialize in PEMB assembly?
How many framers will be available for your project?
How experienced is the framing crew?
Have they previously erected structures from the metal building company you are using?
How many jobs are they currently working on?
What equipment will they be able to supply?
Will the erector physically be at the job site during construction? If not, will the erector visit the job site regularly to check on the building's progress? Who will supervise in the erector's absence?
Will the erector handle all the work or does he subcontract part of the job?
How will the erector keep in contact with you?
Get Multiple Bids
Look for metal building erectors online. Check with your building department for a list of local steel building installers.
Explain your project in detail to each erector you contact. To supply an accurate bid, the erector needs to know the building's size, number of doors and windows, and exterior finishing materials. Include the options requiring installation, like skylights, gutters, roof vents, insulation, etc.
Give the erector details about any time-saving features of the steel framing kit you are purchasing. RHINO steel buildings, for example, include self-drilling screws, pre-welded clips, die-formed ridge caps, door trim, and formed-base trim.
If It Sounds Too Good to be True, It Probably Is
Beware of any bid that is markedly lower than all the others are. A low-ball bid may be a red flag that this is a novice framer. Do not settle for an inexperienced framer just to shave off a few bucks. In the long run, it will cost you far more in mistakes and delays.
Ask potential steel building installers for Multiple References and Licensing.
Any reliable erector or contractor should readily supply multiple references. Get references from earlier projects and jobs that are more recent.
Many states require licensing and certification for all builders, including steel erectors. If required in your state, ask for copies of their current license and certification.
Verify Everything
Don't take anything at face value. Remember that you are ultimately responsible for the success of your building project.
Check the erecting company's rating with the Better Business Bureau.
Look for reviews of the company online.
Ask your local building department for the status of each bidder's license and certification.
Check every reference you are given.
If possible, visit projects and examine the craftsmanship— especially earlier jobs.
Speak to the building owner in person. Are they happy with the erector's work? Has the building performed well? Would they use the same erector again?
Visit a job in progress, if possible. Does the framing crew appear organized? Do they handle the building materials with care? Do they appear to be taking the proper safety precautions?
Study the erector's contract carefully. Are any services excluded from the bid? Avoid ambiguous references, like "extraneous services." Insist that everything be spelled out in detail.
Make it clear that the erector cannot make any design changes in the field. Be sure he knows he should contact you immediately if there are any issues during construction.
With huge or complex commercial and industrial projects, it may be advisable to hire a general contractor to oversee the entire construction project, including framing assembly.
The Steel Building Erector and RHINO
RHINO earns an A+ rating with the Better Business Bureau. We pride ourselves on supplying excellent customer service and a superb building product—all at an affordable price.
The RHINO Installation Manual is available online, detailing the RHINO assembly procedures and safety measures. In addition, RHINO's team of steel building specialists will answer any questions for you, your metal building erector, or your general contractor. We will do everything possible to help your building project reach a successful completion.
To learn more, call RHINO today at 940.383.9566.