The Three Ways to Request a Free RHINO Metal Building Quote
The number one question we hear is, "How much does a steel building cost?" That is understandable; we all want to know the bottom line of any major purchase we make.
RHINO Steel Building Systems offers three ways to get a quote on your construction project.
1. The RHINO Quick Quote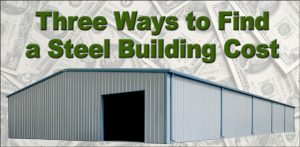 For a fast ballpark estimate on your project, fill out a RHINO Quick Quote online. A Quick Quote requires only the following rudimentary information:
Name
Address
Phone
E-mail Address
Building Width
Building Length
Building Height
If you are still at the "tire-kicking" stage of your metal building project, a Quick Quote may suffice initially. It provides a rough estimate based entirely on your location and the dimensions of the structure.
For a more definitive estimate, go to next quote level.
2. The RHINO Comprehensive Quote
The Comprehensive Quote Form is also available online. This allows a more inclusive steel building estimate when you have reached a more complete vision for your project.
In addition to the information supplied for a Quick Quote, the Comprehensive Quote also requires:
Additional Contact Information
Approximate Building Date
Building Function
County of Building Site
Insulation Choices
Roof Pitch
Roofing Material Choice
Number and Sizes of Framed Openings
Gutter and Downspouts
Number, Sizes, and Styles of Entry Doors and Overhead Doors
The Comprehensive Quote works well for a standard metal building order. However, if your project requires multiple ceiling heights, a steeper roof, a hip roof, or other custom modifications, you should go directly to the Expert Quote tier.
If this is your first metal building project, we definitely recommend you call for Expert Quote and full assistance.
3. The RHINO Expert Quote
The easiest way to get an accurate idea of the steel building cost is to speak directly to a RHINO metal building specialist at 940.383.9566. They can provide you with fast, free estimates.
Each of these professionals has many years of experience in the metal building field. Rely on their knowledge to lead you through the quote process step by step.
Our specialists also offer tried-and-true tips on enhancing your design— as well as ways to trim costs through simple design changes. These trained experts will also furnish you with a list of available options and accessories to consider.
For complicated projects requiring a custom quote, preferred options, or specialized needs, consult with a friendly RHINO specialist for a custom quote.
Comparing Our Steel Building Cost with Other Quotes
When comparing steel building kit prices, be sure you know exactly what you are getting from each company. Significantly lower costs are often based on cut-rate materials or kits with fewer options included. Be sure you are not comparing apples and oranges!
RHINO Offers More Building for Less Money
RHINO prides itself on supplying top-of-the-line features at competitive prices.
Our goal is happy, satisfied customers who return to RHINO for their future building projects— and confidently refer friends to us for their building needs, too. Consequently, we are determined to offer the best deal in steel building.
Speak today with a knowledgeable RHINO metal building specialist. Call us at 940.383.9566.
Also, be sure and check today's RHINO Metal Building Specials, too!