Building Design for a Prefab Metal Building
If you are contemplating your first project using steel building kits, you may wonder who will handle the building design.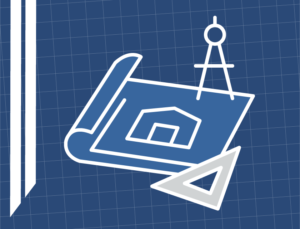 Actually, that depends on the size and scope of the project.
Understanding a Prefab Metal Building System
Let's start with the basics.
Wood-framed structures need strategical "load-bearing" interior walls to help carry the weight of the building. Although stronger than wood, light-gauge steel structures also depend on load-bearing interior walls.
Consequently, the location of these load-bearing walls limits your floor plan options.
However, rigid steel building kits are entirely self-supporting; no load-bearing interior walls are unnecessary.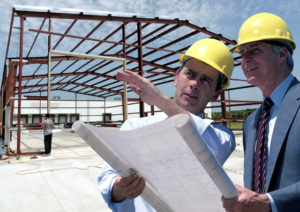 In fact, RHINO designs a prefabricated building so efficiently that clients may even draw their own floor plan right on the slab with chalk. Surprisingly, they can even opt to make interior layout changes on the fly during construction.
When You Need an Architect
Uncomplicated, open floor plans with few interior walls generally do not need expensive architectural services.
Rest assured, RHINO buildings do include plans stamped by a structural engineer licensed for your state. In general, stamped plans are all you need for permitting and loans.
Nevertheless, you may find more complex commercial projects may benefit from an experienced architect.
For example, motels, schools, dormitories, and nursing homes require an architect to plan interior wiring, layout, and plumbing.
Moreover, architects also help with the building placement. They consider prevailing wind direction, drainage, and easements. Therefore, an architect designates where to locate the structure for maximum efficiency.
Also, be advised that in some urban areas, building codes and zoning officials demand architectural plans.
Three Building Design Tips from RHINO
First, check with your building and zoning officials. Know exactly what they require. Learn what zoning restrictions say about the size, use, and height limitations.
Secondly, speak to a RHINO prefab metal building specialist. Discuss your building vision. Provide him or her with your local permitting and zoning details. If required, RHINO supplies working steel building plans for your architect's use. Fortunately, RHINO deducts the small fee required for this service from your total when you place your order.
Thirdly, only hire an architect with extensive experience with pre-engineered steel building kits! Ask for references from their previous clients with steel building kits. Then, check those references thoroughly.
RHINO Steel Building Kits Promise Design Freedom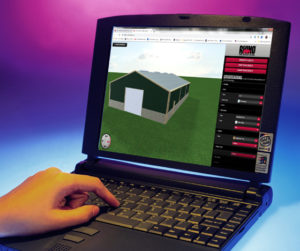 At RHINO, we find most clients want to design their own building. They already have a "perfect" plan in mind. Sometimes they fear a prefabricated building may restrict their vision.
A RHINO steel building specialist allays those fears.
These prefabricated building professionals offer you tips on how to design metal buildings. Use their expertise and experience to help fine-tune your building design vision.
Often you will find that modest design changes make a great difference. Simplifying the design may help you stay on budget.
RHINO lets you design your building in 3D online.
Conclusion
Simple steel building kits generally do not require architectural services.
However, for a complex commercial building design, RHINO works with your architect to create the perfect prefab metal building for you.
Go with the Pro. Go with RHINO.
Call RHINO now at 940.383.9566 for more information.
(Updated 10-2-2019. Originally published 6-2-2017.)