Premium Pipe Flashing Seals Steel Buildings Tight
Corrugated steel roof panels on metal buildings present a challenge for pipes and flues. Creating custom-fabricated metal roof flashing for pipes protruding through the ribbed panels was once a major headache.
Sealing pipes, flues, and ducts is a problem no more, thanks to an ingenious device called the Dektite® roof boot.
A Revolution in Metal Roof Flashing
The Dektite® roof boot consists of a rubbery cone sleeve, attached to a strong, yet flexible base.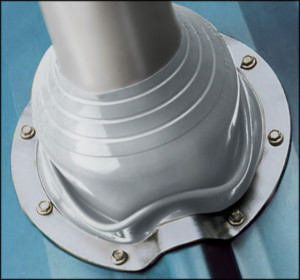 A light gray synthetic rubber called EPDM (ethylene propylene diene monomer) creates the long-lasting, pipe-gripping top of the Dektite flashing.
EPDM Dektite flashing boots serve most applications. EPDM boots resist constant temperatures ranging from -58° F to 239° F, and withstand intermittent temperatures as high as 302° F.
For higher temperature applications, metal roof flashing with a red silicone cone works best. The silicone Dektite® boot withstands constant temperature up to 392° F, and intermittent temperatures as high as 482° F.
The corrosion-resistant base of the Dektite flashing fits easily onto steel roofing. The supple, bonded aluminum flange fits any roofing panel profile perfectly— regardless of rib location or roof pitch. Malleable and easily shaped by hand, the base flange of the Dektite flashing conforms to the shape of the roof.
Dektite® Roof Boot Features
Waterproof Dektite® Roof Boots supply numerous advantages over old-fashioned hand-contrived metal roof flashing.
• Fully flexible under all conditions
• Highly resistant to damage from ultraviolet light
• Low profile and unobtrusive in design
• Will not crack or break, even under adverse conditions
• Flexible cone sleeve holds tight during pipe contraction, expansion, or vibration
• Easily adapted to any application
• Sizes to fit ¼" to 19" pipes, flues, and ducts
• Resistant to ignition from embers; does not supply fuel for a fire
• 20-year warranty
• No risk of seal breakdown
• Tapered base edge sheds water quickly
• Isolating the pipe from the roof panel reduces noise
• After installation, can paint to match roofing panels with 100% acrylic paint
Installing Roof Boots on Steel Buildings
Mounting rubber Dektite flashing could not be simpler. The hassle-free installation of this metal roof flashing requires no special tools.
Each cone is clearly marked for a variety of pipe outside diameters. The marks show pipe sizes in both inches and millimeters. The installer simply trims the metal roof flashing to the corresponding pipe size and slips the boot over the pipe. (Retrofit Dektite flashing is also available.)
After shaping the flexible base to the roofline, use a marker to outline the base. Slip the boot up the pipe. Apply sealant inside the marked area. Shove the boot firmly into place over the sealant. Attach the base to the roof hex-head screws with EPDM washers.
In just minutes, a long-lasting waterproof boot snugly seals the pipe.
Dektite® Roof Boots Optional with All RHINO Metal Buildings
RHINO Steel Building Systems offers a full range of high-quality options for metal buildings, including Dektite® roof boots.
We have steel buildings to fit every application— and every budget, plus high-quality metal building flashing to go with it.
Call now for a FREE QUOTE and more information on the features and options available from RHINO for metal roof flashing. Call RHINO today at 940.383.9566.