An Affordable RHINO Steel Building Saves Money from Order through Construction
There is more to the bottom line of a building project than material costs.  Attention must also be paid to the expenses associated with materials, labor, construction time, shipping, foundation, and more.  When studying the overall picture, it is clear prefabricated steel buildings save money from start to finish— and even beyond.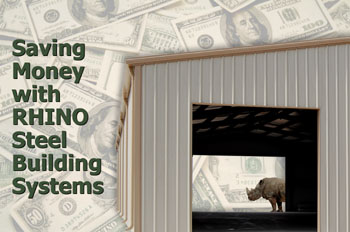 Here are seven ways prefab metal buildings systems save time and money:
1.

Pre-engineered Steel Buildings are Efficiently Designed

A man-made building material, steel produces a consistent building product with constant qualities.  Every column, rafter, girt, or purlin supports an exact and known load.  High-tech engineering software quickly creates a design which takes full advantage of the strength and stability of steel.

The result is a strong, durable framing kit with the least possible steel.  There is no guesswork, no waste, and no over-engineering.

This efficient use of steel keeps pre-engineered steel buildings affordable.
2.

RHINO Offers Multiple Shipping Points

Pre-engineered metal buildings ship to the job site by truck.  Delivery charges are based on the distance from the factory to the job site.  The farther the truck travels, the higher the freight costs.

RHINO Steel Building Systems ship from multiple locations across the U.S.  Producing each metal building at the manufacturing plant closest to the delivery point holds shipping costs to an absolute minimum.
3.

Metal Buildings Save Money on Foundations

Typically, prefabricated metal buildings save money on foundations, too.

Steel possesses the highest strength-to-weight ratio of any building material.  Since fewer components are needed to create an extremely strong structure, there is less stress placed on the foundation.  Often steel buildings require far less concrete for the foundation than other building materials.

In addition, RHINO's formed base trim saves even more on foundation costs— about $300 on an average-sized building.
4.

Save on Labor with a Smaller Building Crew

A prefabricated metal building contains far fewer actual building components than building systems like wood.  All the framing pieces come pre-cut, pre-welded, pre-punched, and clearly marked for easy identification.  Consequently, the project requires a smaller, less experienced building crew, saving money on framing erection.

On small to mid-sized buildings, many do-it-yourselfers elect to erect their own structure with a few friends, saving even more.
5.

Steel Framing Goes Up Fast

Everything in a steel building kit arrives at the job site ready to assemble.  There is no need to cut, weld, punch, or drill the framing pieces.  Everything is marked and ready to assemble with high-strength bolts and self-drilling screws.

Customers report RHINO kits slash framing time by as much as 33% or more.  The faster the building goes up, the greater the labor savings.
6.

Builder's Risk Insurance Savings

The quicker a project is completed, the less time the builder must pay builder's risk insurance premiums.
7.

Less Construction Waste

Wood builders pay a premium to have leftover lumber and building material scraps hauled away for disposal.

A prefabricated building system creates very little waste.  Any leftover steel is sold for cash at the closest recycling center, further offsetting construction expenses.
Bonus Savings:
For additional savings, check out RHINO's current Steel Building Specials.
Contact RHINO now to discuss your building project in more detail or to find out more about our affordable steel buildings.
Related RHINO blogs: