Why Housing Wood in Wood is Not Good
Look around town and you will see most home improvement centers and lumberyards choose steel buildings to house their operations.  That seems odd, doesn't it?  Wouldn't you expect a lumber business to be housed in a lumber-framed structure?
There are three main reasons wood sellers use steel buildings:
1. Lumberyards Need Massive Space
Maneuvering and storing piles of wood studs, plywood sheets, and other building products demands lots of space.  Only steel allows the huge clear spans and towering ceiling heights necessary for an efficient retail lumber operation.  Wood-framed structures cannot match the wider spans and high overhead room provided by a pre-engineered steel building.
2. Inventory Protection
Lumber warehouses face three enemies: fire, termites, and mold.
FIRE:  Nothing fuels a fire better than wood and sawdust.  Lumberyards not only carry scores of wood products, but also volatile chemical products that make lumberyard fires especially dangerous.  That's why firefighters dread the call to a lumberyard fire.
Fire departments pre-plan for how they will attack "fire breeder" businesses like lumberyards.  In fact, lumberyard fires are so devastating, firefighters often refer to other major conflagrations by saying they "burned like a lumberyard."
While no building material is fireproof in a lumberyard fire, steel's fire resistant qualities make it the safer choice for wood businesses.  Steel is never the point of ignition in a fire.  Nor will it add fuel to an existing fire.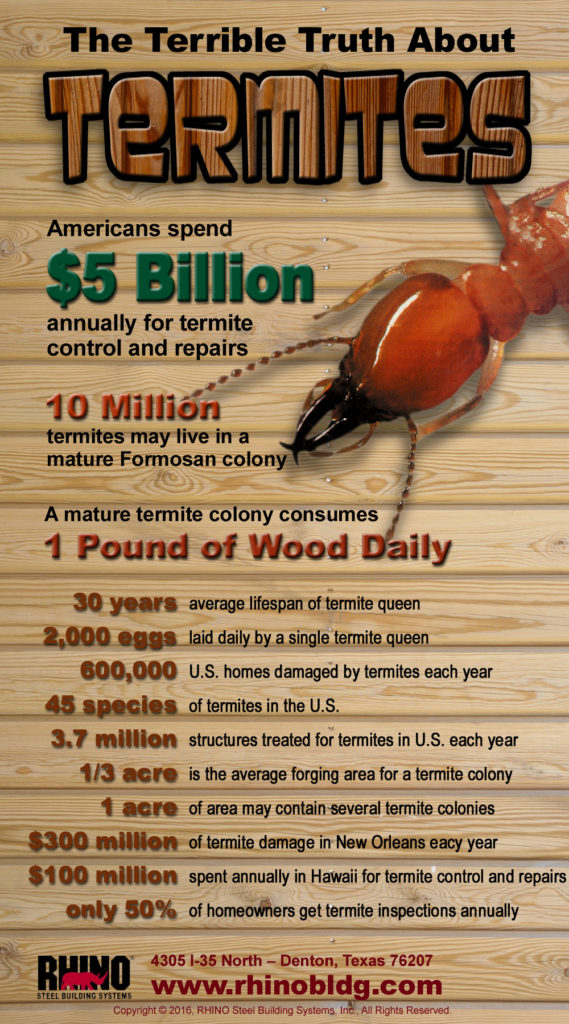 TERMITES:  Anywhere there is wood and sawdust, termites will try to belly up to the buffet— especially if the lumberyard rests in a more rural setting.
Keeping termites at bay requires great vigilance on the part of wood sellers.  At least they do not have to worry about termites inflicting structural damage with their steel buildings.  Even voracious Formosan termites cannot make a meal of a steel building.
MOLD:  Have you ever seen black, fuzzy-looking streaks and patches on new lumber?  That's "lumberyard mold."  Anywhere there is wood and moisture, there is a potential for mold and fungi growth.
Fortunately, lumberyard owners need not worry about mold growth spreading to their steel structures.  As an inorganic substance, steel is impervious to mold.
3. The Price is Right
The deciding reason lumberyards choose steel buildings over wood structures is the cost.  Large span pre-engineered steel buildings cost less to buy, build, and maintain than wood structures.
Steel's superior strength allows wider, higher, longer structures with far fewer pieces.  Consequently, steel buildings lop 33% off construction time over similar wood buildings.  And steel buildings avoid the constant painting and upkeep so familiar with lumber-framed structures.
Why Lumberyards Choose Steel Buildings from RHINO
We have given three of the practical reasons lumberyards choose metal buildings for their operations.  Here are five reasons those structures should be RHINO steel buildings:
Our structures are pre-engineered to the customer's exact needs and location.
RHINO uses only high-strength, high quality, commercial-grade steel framing, guaranteed to meet or exceed all current local codes for the lifetime of the structure.
"The RHINO Difference" means top quality features are included in the standard building package at no additional cost.
We bring your building order in on time and on budget.
Our customer service is second to none.
Find out why so many commercial construction project managers not only choose steel buildings, they choose RHINO-tough steel buildings.  Test our metal today!  Call RHINO Steel Building Systems now at 940.383.9566.