How Prefabricated Steel Building Kits Save You Money
Metal buildings cut costs at every stage of the project. Prefab steel building kits save money on material purchase, construction costs, and operating expenses.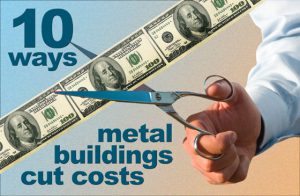 Is it any wonder that pre-engineered metal buildings now rule low-rise construction, with 65% of the commercial market and 95% of the industrial market? It is simple economics.
Let's take a closer look at ten ways prefabricated metal buildings save you money.
Affordable to Buy
Pre-engineered metal buildings cut costs on the purchase price through innovation, efficiency— and by sheer volume.
1. ENGINEERING: Structural steel engineers use sophisticated engineering software that speeds up the design process, saving both time and money. Computer-aided-design software also generates detailed drawings for the factory production of every piece of the steel framing.
2. EFFICIENCY: Recycled steel retains all the strength of virgin steel— no matter how many times it is recycled. Steel claims both the highest strength-to-weight ratio and the highest recycled content of any building material. Consequently, less material creates a much stronger structure than with other building materials.
3. SHIPPING: RHINO Steel Building Systems ship from multiple points across the U.S., keeping shipping costs to a minimum. Every order is produced at the factory nearest the delivery point, cutting freight costs.
Economical to Construct
4. FOUNDATION: Since steel framing weighs much less than other building systems, less concrete is needed for a prefab metal building kit. In addition, RHINO's formed base trim system eliminates the need for notching the slab, saving about $300 on a 5,000 square-foot structure.

5. SIMPLICITY: Prefabricated metal building kits arrive at the construction site ready to assemble. Consequently, steel buildings cut labor costs. Erecting steel framing is simple and logical, generally cutting construction time by 33% over other building methods. On smaller projects, many people decide to raise the framing themselves with the help of a few friends, saving even more.
6. CLEANUP: Since all the framing pieces are prefabricated at the factory, a steel building produces very little waste material. Instead of paying someone to haul away giant piles of construction debris, simply take the small amount of leftover steel and sell it at the nearest scrap yard.
Inexpensive to Operate
7. ENERGY: A well-insulated metal building cuts costs on heating and cooling. RHINO's Pro-Value Insulation System reduces energy bills by about 50%—a huge savings over the lifetime of a structure.
8. MAINTENANCE: Metal buildings retain their good looks and value for decades without expensive painting and repairs. Resistant to mold, termites, and vermin, metal buildings avoid the need for expensive chemical treatments, too.
9. INSURANCE: As a fire-resistant, commercial-grade building material, a steel building earns big discounts on insurance premiums with most carriers.
10. LIFECYCLE: At the end of their usefulness, metal buildings cut costs on demolition. In fact, some companies will actually pay the building owner to demolish the structure so they can reclaim the scrap steel for recycling!
RHINO Metal Buildings Cut Costs, Not Quality
Everyone wants the most bang-for-the-buck on their construction project, but the one place you do not want to cut costs is on quality. That's where RHINO really shines.
We believe in providing the finest building at the best possible price. We've built our reputation one building at a time by providing a quality product with extra features we call The RHINO Difference— and by treating our customers right.
Speak to an experienced RHINO metal building specialist today. They will answer all your questions, offer expert advice, and provide quick quotes for your next construction project.
Call 940.383.9566 today. Find out more ways RHINO metal buildings stand out from the common herd of metal building suppliers.