Steel Church Buildings: Economical to Build, Economical to Operate
Why do so many churches choose steel buildings for their new construction projects?
Pre-engineered steel buildings provide many advantages to religious facilities. Steel framing offers clear span interiors, soaring ceiling heights, sturdy construction, versatility of design, and ease of future expansion.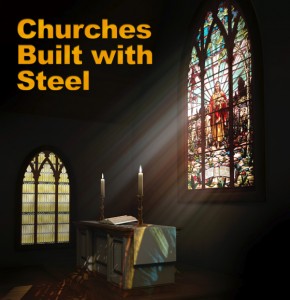 However, the number one reason churches so often decide to build with steel is ACCOUNTABILITY.
Church building committees must make the most of their contributions. Stewardship demands using church funds wisely. No congregation wants to sacrifice ministry effectiveness or community outreach projects to a burdensome building project. Affordability is paramount.
Economical Steel Church Buildings
Whether the building project is a new sanctuary, classrooms, a fellowship hall, a gymnasium, offices, or production facilities, steel buildings promise more for less. Depending on the simplicity or complexity of the design, steel church buildings may slash construction costs by 30% to 40%.
A new church building project will likely require the services of an architect. However, by choosing to build with a pre-engineered steel building system, your project will not need an engineer. The price of the steel building package includes structural engineering.
Good stewardship means considering not only building budget, but also the operating budget any church structure. Typically, a construction accounts for only 11% of the total building cost over the lifetime of a structure.
Steel buildings not only stretch today's building budget, but also cost far less to operate than other types of buildings.
Steel framing produces deeper wall cavities than other building materials. Filling those cavities with quality insulation drastically reduces energy consumption. It is possible to cut heating and cooling bills by as much as 40% with high-grade insulation.
Steel church buildings also require very little maintenance, further stretching the congregation's operating costs.
Check with your church's insurance provider before construction. Discounts are usually available for structures built with fire-resistant, commercial-grade steel.
RHINO Steel Church Buildings
RHINO Steel Building Systems would love to collaborate with your congregation's new project. We specialize in bringing projects in on time — and on budget.
Our versatile building system allows for virtually any exterior design. Large expanses of glass, as well as brick, stone, glass block, stucco, or tilt-up concrete walls can grace your new church structure.
We have supplied many steel church buildings over the years. Multiple shipping locations across the country minimize freight expenses, too.
See what the RHINO Difference can mean to your next church project. Call RHINO at 940.383.9566 today for more information on steel churches and auxiliary buildings from RHINO.