METAL Church Building Costs
Planning a new church sanctuary, temple, or other religious structure can be both an exciting and daunting task. The variety of church construction companies is overwhelming, and learning about church construction costs takes careful research and planning. Good stewardship also requires considering the operating costs before investing in a new building. Where is one to begin?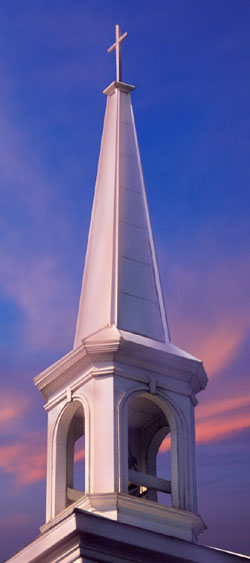 Have you considered a steel church building? Steel church buildings cost less than other building options, delivering many advantages both before and after construction is completed.
"Cradle to the Grave" Cost Analysis for Steel Frame Church Buildings
Too often church building committees concentrate entirely on church construction costs. When compared to the whole lifespan of the structure, construction costs only account for about 11% of total costs. Maintenance and repairs may gobble up 75% of total expenditures over 40 years.
For your church, steel buildings can provide long-term cost benefits without sacrificing quality or style.
Long-Term Benefits of Church Steel Buildings
Church steel structures can be used for sanctuaries, classrooms, fellowship halls, and every other kind of religious support building. Congregations find that steel church buildings cost less year after year, providing the long-term savings afforded by a premium building system with an even stronger incentive for choosing steel.
RHINO church steel buildings are:
Very low maintenance, staying straight and strong over the years.
Durable and long-lasting, retaining the value decades longer than other structures.
Engineer-certified to meet or exceed all local building codes for the life of the structure.
Full of extra waterproofing features not available with other metal building packages.
Able to save as much as HALF on heating and cooling costs with Pro-Value Insulation.
Able to save even more on utilities when utilizing cool-coated roof panels
Usually less expensive to insure, since steel is a non-combustible, termite-resistant, commercial-grade building material.
Economical to expand as attendance grows.
Completely recyclable at the end of the building's life cycle.
Call Today for a Free RHINO Quote for Steel Church Buildings
RHINO's steel building specialists are experts when it comes to church steel buildings. Call us today at 940.383.9566 to speak with a specialist about your church building project in detail.