Roofline Extensions Add Flair to Pre-engineered Metal Buildings
In part one of this series on steel buildings, we discussed changing the roof pitch and gable rooflines versus hip rooflines. You can also "dress up" metal buildings by adding eave overhangs or canopies.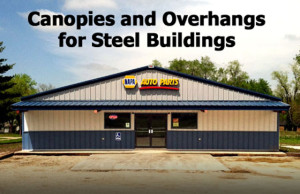 In standard pre-engineered steel buildings, the roofline ends flush with sidewalls. That is adequate for many applications, where the "boxy" look of the building does not matter. For example, agricultural barns and industrial warehouses find this basic steel building economical and practical for their needs.
However, many commercial enterprises must think outside the box to achieve a look that suits their vision. Adding eave overhangs or canopies brings a more traditional look to the structure.
Making the MOST OF Your Metal Building Investment
Eave overhangs and canopies change the profile and performance of a structure dramatically. Both useful and attractive, eave overhangs are a simple way to enhance the look of a steel building.

What are the practical advantages of eave overhangs, canopies, and other roofline extensions.
• SHADE: Extending the roofline provides additional shade across the building, windows and doors. Shading creates cooler building temperatures, a big plus in southern climates with hot summers.
• SHELTER: Canopies and eave overhangs over doorways shelter people coming and going from the building in inclement weather.
• PROTECTION: Overhangs and canopies move rain, snow, and ice away from the structure quickly, preventing splashing on walls and messy, slippery accumulations near doorways. This is especially important in metal buildings without gutters and downspouts.
• VALUE: Canopies and eave overhangs increase curb appeal, improving your structure's resale value. If you are building an investment property, canopies and eave overhangs make your structure more attractive to potential renters, too.
RHINO Steel Building Systems offers eave overhangs along sidewalls as an option. You may choose any size from 2' to 10' deep eave overhangs. Soffit for enclosing the eave is included.
RHINO also offers optional end wall canopies from 3' to 10' in depth. These roof canopies are self-supporting. No external columns or posts are needed. Smaller door canopy kits are also available in for 30", 40" and 60" wide doors.

Keep in mind any future plans you may have for the structure. If you think you may want to expand the building later via end wall extensions, forego end wall canopies.
Learn More About the Versatility of RHINO Steel Buildings
Our experienced RHINO metal building specialists know the steel building business from foundation to rooftop. Call RHINO today to discuss your vision for your building project. We will be happy to discuss your options and provide a free, no obligation quote.
The RHINO is 940.383.9566.
Don't miss out next blog on choosing exterior building treatments!