Steel Buildings Cost Less
What is the main motivation so many people choose to construct pre-engineered metal buildings? Well, it is the same basic motivation driving people choose any other product: the bottom line. Steel buildings cost less.
We all spout platitudes about demanding quality— and we do want the most bang for our buck— but when push comes to shove, money talks. In fact, money SHOUTS!
No matter how wonderful the features of a building system, if it is not affordable, the benefits do not sway us.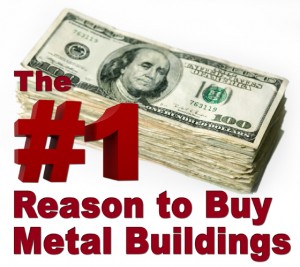 Today 65% of commercial building projects use steel framing. Steel boasts an astounding 95% of all new industrial construction.
So why are pre-engineered metal buildings so incredibly popular?
Steel buildings offer that rare combination in today's marketplace— the best product and the best price.
Steel Buildings Cost Less to Buy
The design and production of pre-engineered steel buildings is incredibly efficient. Extreme streamlining of the entire production process allows steel building manufactures to slash material costs.
Steel remains the most stable of all building material pricing. Even if steel costs rise, the price changes little when compared with overall building costs. Here's why: the raw building materials typical accounts for only 10% to 11% of the overall cost for a building. Even if steel prices increase 5%, it adds only 1% to 2% of the total cost of the steel package.
Reputable, customer-conscious steel building companies (like RHINO Steel Building Systems) employ highly trained specialists. These experienced professionals often suggest simple design changes that cut construction costs.
Advances in computerized design and engineering software produce detailed production drawings with lightning speed.
Professional steel fabricators manufacture each building component to the exacting specifications supplied by the engineering software, precision tooling every framing piece.
Steel claims the strongest strength-to-weight ratio of any construction material. Far fewer pieces of steel create a much stronger frame than with typical wood framing.
Steel Buildings Cost Less to Build
Pre-engineered metal buildings significantly reduce construction time— and in building, time is money.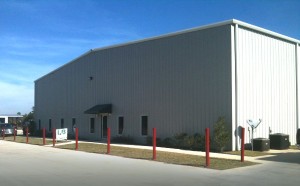 The more labor involved in construction, the higher the cost of building. Typically, construction accounts for 25% to 30% of the overall cost of a building.
Prefabricated steel buildings go up much faster than other building methods. A steel building slashes construction time— and therefore costs— by as much as 33%.
Why are steel buildings so much faster to erect?
LESS CONCRETE: Steel's strength-to-weight ratio actually makes the total framing lighter than other building materials. Consequently, a metal building slab requires less concrete, reducing foundation costs.
FEWER PIECES: Steel's strength means far fewer framing pieces are required to build a strong, durable structure. Lumber-framed buildings place studs 16 inches apart; steel buildings space columns 25 feet apart.
PREFABRICATION: All steel framing components arrive ready to assemble. Every piece is cut, welded, drilled, painted, and marked for easy identification. Framers waste no time culling, measuring, cutting, drilling, or welding.
LABOR SAVINGS: Pre-engineered steel buildings bolt-together in a logical, easy-to-understand fashion. Less experienced labor can be used with a knowledgeable supervisor. Steel buildings generally require fewer total laborers, too, further cutting labor costs.
LOWER INSURANCE: The faster a building is completed, the less spent on builder's risk insurance. Since steel buildings shrink construction time by one-third, builder's risk insurance costs drop.
DEBRIS SAVINGS: Getting rid of building debris costs money. The more debris left, the greater the expense to haul it away. Because of the efficient use of materials, pre-engineered metal buildings leave very little scrap. Any steel scrap remaining is sold to a recycling center.
Steel Buildings Cost Less to Operate
Smart business people look at the entire bottom line. They examine the total construction costs of building— and examine potential operating costs as well. High-grade steel buildings decrease operating and maintenance costs dramatically.
PROLONGED LIFECYCLE: Poor quality building materials create a structure that is no bargain. Metal buildings stand decades longer than other types of structures— and hold their re-sale value better.
LOW MAINTENANCE: Constant structure repainting and repairs drain operating budgets. Steel buildings save money by being virtually maintenance free.
Premium steel building packages include features to eliminate the leaking, corrosion, condensation, and weather-related problems common in shoddy metal buildings.
Wood framing rots, warps, sags, and twists over time. Rafters sag. Windows and doors stick. Rigid-frame commercial steel framing starts out straight— and remains true throughout the lifetime of the structure.
LOWER INSURANCE: The fire-resistant qualities of commercial grade rigid steel earn much lower insurance rates, saving 25% to 35% on premiums.
TERMITE-RESISTANT: Unlike lumber-framed structures, steel framing is impervious to termites or wood ants. Steel needs no noxious and expensive chemical treatments to protect it creepy crawlers.
LOWER ENERGY BILLS: High energy bills gobble up huge portions of a company's operating budget. Properly insulated steel buildings slash utility bills, saving thousands of dollars on energy costs over the lifetime of the building. RHINO's Pro-Value insulation system cuts energy bills by 50%.
RHINO: A Reputation for Quality
RHINO Steel Building Systems has built its reputation for quality one metal building at a time. Our customers know they can trust our products and our service.
RHINO offers these assurances to our clients:
An A+ rating from the Better Business Bureau
A reputation for premium quality buildings at an affordable price
A loyal clientele, with 30% of sales coming from repeat clients and customer referrals in the past 12 months
20+ years as a successful steel building business
Shipping from multiple factories to any site in the U.S., Canada, or Mexico
An experienced staff with an average of 21+ years in steel building
RHINO commercial-grade framing contains a high average of recycled steel, making it the perfect eco-friendly building choice, too.]
Thousands of satisfied customers trust The RHINO Difference to provide the best building at the best possible price.
Want to know more? Call RHINO today at 940.383.9566. Learn how much RHINO pre-engineered metal buildings can save money on your upcoming building project.