RHINO STEEL BUILDINGS IN KANSAS SHINE IN THE 'SUNFLOWER STATE'
Farming operations cover 90% of the area in Kansas.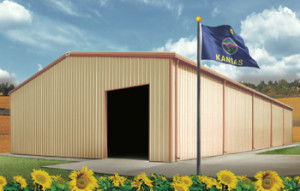 Farmers and ranchers need strong, durable, and affordable RHINO metal buildings in Kansas for their stock, produce, and equipment.
Prefabricated at multiple factories across the U.S., RHINO metal buildings in Kansas take the guesswork and stress out of construction.
All the steel framing is cut, welded, drilled, punched, and marked for simply bolt-together construction. Assembling the framing for a RHINO structure is much like using a life-sized erector set.
Some of the products that RHINO steel buildings features include:
Pole Barns in Kansas
Steel Warehouses for Kansas
Steel Industrial Buildings in Kansas
Steel Church Buildings for Kansans
Kansas Steel Aircraft Hangars
Recreational Buildings for Kansas
Prefabricated Steel Buildings in Kansas
Metal Garages in Kansas
Kansas Metal Storage Buildings
Kansan Indoor Horse Arenas
Steel Commercial Buildings in Kansas
Agricultural Steel Buildings for Kansans
Metal Barns in Kansas
Kansas Metal Building Homes
Large-scale Kansas farms require larger agricultural buildings for the huge combines and hay-bailing equipment used today. Clear span steel buildings— with no interior columns— and wide overhead doors make maneuvering these mechanical behemoths inside the structure simple.
In addition, RHINO custom metal buildings in Kansas are available in any size required for metal barns, livestock shelters, stables, dairies, equipment storage, hay sheds, and farm offices, and other agricultural structures.
Commercial and Industrial RHINO Metal Buildings in Kansas
In recent years, the Kansas economy diversified to include large industries.
Kansas is now a leader in the aviation market, producing both military and civilian planes. It also produces air conditioning and heating equipment, snowmobiles, processed meat, tires, paints, processed foods, and major appliances.
Manufacturing and warehouse operations require big, sturdy structures with open spans, and large openings or overhead doors, for most people this requires custom metal buildings.
RHINO's steel metal buildingswork great for almost any commercial or industrial application. Strong, environmentally-friendly RHINO metal buildings in Kansas last for decades, and stand up to the elements.
Since steel is resistant to fire, wind, and termite damage, insurance savings are often available for metal buildings in Kansas.
With RHINO's Pro-Value insulation, climate-controlled industrial and commercial building owners also enjoy incredible savings on heating and cooling.
Retail and commercial businesses find prefab metal buildings retain their value longer and need almost no maintenance.
A steel building does not have to look like a metal barn, either. Building exteriors for a steel building can be finished in stone, brick, wood, stucco, or tilt-up concrete, as preferred.
The Stronger, Safer, Smarter Way to Build in Kansas
Want to know more about steel buildings in Kansas? Call and speak to a friendly and courteous steel building specialist at 940.383.9566, or for more information and a free quote for your next building project.