RHINO Steel Building Sales Take Flight in North Carolina
In 1903, the Wright Brothers astounded the world with the first powered flight at Kill Devil Hill, near Kitty Hawk, NC.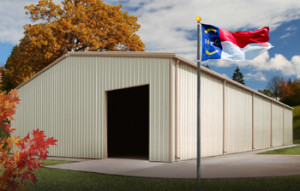 Over 100 years later, North Carolina still pursues innovations in flight. The state boasts over 180 aerospace, aviation, and defense companies.
In 1902, the Orville and Wilbur Wright constructed a wooden building for their experimental glider in North Carolina. Returning from a trip a few months later, they found the hangar badly damaged by a storm and had to rebuild.
Today's corporate and private pilots choose prefabricated metal buildings like RHINO for their steel helicopter and airplane hangars and structures.
The strength of steel allows unobstructed space for easy maneuverability of aircraft. Metal buildings in North Carolina provide maximum protection for aircraft assets. Our prefab metal garages also make excellent personal gyms, offices, guest cottages, storage units and more.
RHINO Metal Buildings for North Carolina vs Mother Nature
In the past 160 years, 48 hurricanes have battered North Carolina. A dozen of those hurricanes blew into the state as Category 3 or higher storm.
Powerful Hurricane Sandy just brushed the Outer Banks of North Caroline in 2012, yet still caused extensive destruction in North Carolina.
RHINO hurricane resistant metal buildings in North Carolina afford better protection from severe storms. Our NC metal building kits also provide stronger protection from from fire, snow, wind, mold, and lightning.
North Carolinians also battle eastern subterranean and Formosan termites. Building owners are often shocked at the cost of termite repairs to wood structures— and equally dazed to learn their insurance does not cover the damage.
Formosan termite queens may live up to 20 years or more, grinding out 2,000 eggs per day. One colony may contain one to two million of the little wood-munching monsters.
RHINO-tough metal buildings in North Carolina leave the voracious hordes with nothing to eat. No termite can devour steel!
RHINO North Carolina Metal Buildings For Every Purpose
RHINO delivers top-of-the-line metal buildings to North Carolina.
Industrial and commercial clients find the versatility of prefab RHINO metal buildings fit every low-rise enterprise, from a small drive-through restaurant to a mega warehouse.
North Carolina residents also appreciate the value-added benefits of the RHINO Difference in metal buildings, when compared to other structural systems.
Barns, stables, riding arenas, hay sheds, and farm storage structures built from the RHINO system offer North Carolina farmers and ranchers the strongest metal buildings at the best possible price.
Visit our Frequently Asked Questions section for more detailed information.
Call RHINO today at 940.383.9566 for a free quote on metal  buildings in North Carolina