the strongest buildings start with steel
Louisiana's location on the Gulf of Mexico creates a subtropical climate that produces lush, green coastal bayous, full of wildlife. Unfortunately, the location also makes Louisiana vulnerable to vicious thunderstorms and powerful hurricanes.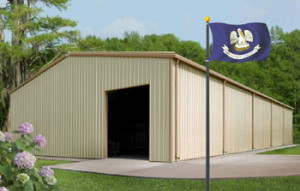 Hurricane Katrina wreaked havoc across Louisiana and the Gulf Coast in August 2005, striking at the heart of New Orleans. Overall, the storm impacted over 90,000 square miles. Over 1,500 people in Louisiana alone died during Katrina. Hundreds of thousands of people in the area became refugees overnight.
This devastation underscores the importance of building strength. RHINO Steel's metal building kits in Louisiana do just that.
Protect Against Hurricanes with RHINO Metal Buildings in Louisiana
RHINO-tough prefabricated metal buildings provide the strength and endurance needed for Louisiana's hurricane-prone environment. Steel boasts the strongest strength-to-weight ratio of any building material, helping it withstand high winds. RHINO's metal building kits can even be specifically designed for optimum hurricane-resistance.
Our prefab kits can be created with a low building profile, a brick exterior (the most impact-resistant exterior material), and few openings to make our metal buildings in Louisiana as hurricane-resistant as possible.
Manufactured in a quality-controlled factory, each RHINO metal building meets or exceeds all current building codes for the lifetime of the structure. RHINO steel buildings in Louisiana assure pricing that provides the highest value for all kinds of structures, including:
Pole barns

Steel warehouses

Steel industrial buildings

Steel church buildings

Steel aircraft hangars

Recreational buildings

Prefabricated steel buildings

Metal garages

Metal storage buildings

Indoor horse arenas

Steel commercial buildings

Agricultural steel buildings

Metal barns
Formosan Termites are No Match for RHINO Steel
Another enemy of Louisiana construction is the voracious Formosan subterranean termite (FST). In the humid climate of New Orleans, the FST racks up in excess of $300 million in damages each year, with another $200 million of destruction across the rest of the state.
In wooden structures, termites can thrive, but steel is an inorganic material that cannot be damaged by termites. No termite — even a Formosan termite — can make a meal of RHINO steel framing!
Get More from Your Louisiana RHINO Metal Building Kit
Other metal buildings do not include all the value-added features of a RHINO building package.
RHINO's prefab buildings are quick and simple to assemble. Our metal buildings for Louisiana are fabricated at the nearest shipping location and delivered directly to your job site.
With every component cut, welded, drilled, painted, and marked for identification, your RHINO metal building arrives at your Louisiana location ready to assemble.
You can trust RHINO for the highest quality metal buildings on the market.
Beyond RHINO steel's unparalleled strength, our ridge caps are die-formed to exactly fit the shape of the roofing panels for a tighter seal. An overlap of the roofing and wall panels create an even stronger seal and comes with a 25-year warranty.
RHINO's metal buildings kits also include special formed-base trim designed to eliminate rust issues.
In addition, insulation options provide long-term energy savings, too.
Discover the difference a RHINO prefab metal building can make for your next construction project. From metal buildings in Lafayette to metal barns in Baton Rouge, RHINO's high quality steel and construction are perfect for Louisiana.
For more information and a free quote on your Louisiana metal building kit, call us today at 940.383.9566.