Prefabricated METAL Buildings for California Earthquakes and Fires
When early settlers frantically made their way to California after the discovery of gold in 1848, they had no idea the real treasure in California was its diverse topography and climate.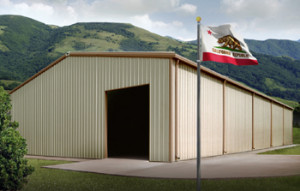 California has it all: arid deserts, majestic mountains, fertile farmlands, and towering forests.
RHINO Steel Building Systems provides prefab steel buildings in California including:
Pole Barns in California
Steel Warehouses for California
Steel Industrial Buildings in California
Steel Church Buildings for Californians
California Steel Aircraft Hangars
Recreational Buildings for California
Prefabricated Steel Buildings in California
Metal Garages in California
California Metal Storage Buildings
Californian Indoor Horse Arenas
Steel Commercial Buildings in California
Agricultural Steel Buildings for Californians
Metal Barns in California
The most populous state in the U.S., California is also the most prosperous state. California's economy is larger than all but a handful of countries.
However, California also has its share of challenges. Wildfires and earthquakes present construction challenges.
RHINO prefab metal buildings and prefab barns in California offer many advantages needed by the state.
Steel Buildings When Quakes Shake in California
It is estimated that there are 500,000 measurable earthquakes in California every year.
Fortunately, California prefab barns and steel buildings perform exceptionally well during seismic events. Steel is stronger than all other building materials, but that is only part of the advantage.
Steel buildings with welded roof and wall connections can snap and break during an earthquake. RHINO's metal buildings for California consist of components attached with high-strength steel bolts called 'moment' connections. The wall and roof supports move with the quake at the connection, rather than breaking.
Designed and engineered for the specific location, each RHINO metal building in California meets— or exceeds— every local building code, including seismic requirements.
With Metal Buildings, California Fire Danger is Lessened
Climate changes over the last several decades have dramatically increased the danger of fire across the West. Over eight million acres a year have burned in U.S. wildfires in recent years.
Steel buildings are naturally more fire-resistant than wood structures.
Wood framing is often the first-ignited material in a building fire; steel never is. Regardless of where a building fire starts, wood framing adds fuel to a structural fire; steel doesn't.
Steel Buildings in California and the Environmental Movement
California rates second on energy consumption in the U.S. Overall, approximately 66% of Californians support pro-environment legislation. Ethnic voters are even stronger supporters, with 75% in favor of tougher environmental laws.
Californian "green" supporters can breathe easier in metal buildings.
RHINO steel framing contains a high recycled steel. Six or seven junked cars produce enough recycled steel to frame a 2,000 square foot steel building. At the end of the structures life cycle, it can be recycled again without any loss of properties.
Properly insulated, steel buildings save on energy usage, too, slashing heating and cooling costs as much as 50%.
Free Estimates and Free Brochure
Fire resistance, earthquake strength, and environmental friendliness are only three of the many advantages of RHINO's prefab steel buildings.
Learn more about RHINO's California prefab barns and steel buildings before you start your next building project. Download a free RHINO brochure. Call 940.383.9566 for more information and a free estimate on one of our California metal buildings.